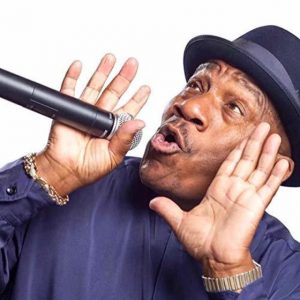 Blues and Gospel artist Reverend John Lee Hooker, Jr. is a man who comes from an iconic musical lineage but has established his own eminent career in music.  He is a 2X Grammy®Award-nominated singer with a long impressive list of additional Blues music awards, honors, and world tours.
His thriving musical career became overshadowed by his untamed life of drug addictions and imprisonment.  Rev. Hooker, Jr. now lives dedicated to Christ and has added the 'good news' to his Blues.  He is releasing life-inspiring singles from his forthcoming Gospel album release TESTIFY.
Rev. Hooker, Jr. allows art to imitate life as he shares the path of his turbulent former days to his now triumphant life in ministry.  His life is transparently chronicled through his new lyric video and title track "Testify".
"Testify" lyric video features famed guitarist Alvon Johnson and was creatively directed by Fabiane Rico.  "Testify" is produced and arranged by Larry D. Batiste (Charlie Wilson, The Dramatics, The Stylistics, Lenny Williams, Michael Bolton).
His first Gospel radio single "My God Is Holy" is impacting Gospel and Urban AC Radio stations across the country now.  Written by Rev. Hooker, Jr. and album producer Larry D. Batiste, "My God Is Holy" also has a companion music video that can be watched and shared on YouTube. 
Rev. John Lee Hooker, Jr's. TESTIFY album is available now digitally and will be available on CD March 27 via JohnLeeHookerJr.com.