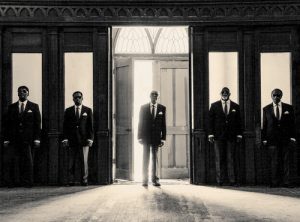 Iconic gospel group 
Blind Boys of Alabama
 received this week their tenth nomination from the 2018 
60th Grammy Awards
. In the American Roots Music Field, they received the nom for 
"Best American Roots Performance"
 for their song 
"Let My Mother Live"
 off their latest album 
Almost Home
, released this summer on BBOA Records through Amazon Music. Throughout their eight-decade history, the group has won five Grammy Awards including 2009's Lifetime Achievement Award.
The story of "Let My Mother Live" originates from the childhood of original founding member Jimmy Carter. It recounts the devasting loss of his father in 1945 during a mining accident when Carter was just 12 years-old. The youngest of six boys, Carter and his father were very close and his death lead to a difficult time. Still close with his mother, the family struggled for a while to overcome the loss and make ends meet. When asked during the album interviews "Have you ever asked God for anything?", Carter responded "I asked him to let my mother live 'til I get grown." Fearing the loss of his mother as well, he prayed every night that his mother would live to see him through his adolescence. And she did. She lived until she was 103 years old.
"Let my mother live 'til I get grown / Don't leave me in a God-forsaken world all alone" sings Carter with strength and vulnerability throughout the song. "I was just a boy when my daddy died / He got killed down in the mine in 1945 / I remember people talkin' while my momma cried / I was just a boy when my daddy died."
Coming almost 70 years after the group released its first single, Almost Home serves as a fitting capstone to a career that has helped define the sound of American music. The album is available to stream exclusively on Amazon Music – both Amazon Music Unlimited and Prime Music, in addition to its exclusive availability as a digital download and physical release.
Recorded over four difference sessions with four different Grammy-winning producers in four different cities, Almost Home serves as a musical memoir, telling stories from the lives of original founding members Jimmy Carter and Clarence Fountain (both now in their eighties), through new, original songs written by Valerie June, North Mississippi Allstars, John Leventhal, Ruthie Foster, Marc Cohn, and others.
Almost Home grew out of the recognition that the band's original lineup is down to just two remaining survivors. Wanting to capture the group's history and experiences through song, inspiration for the album was born through recordings of wide-ranging interviews with Fountain and Carter, pressing deep into their memories of their improbable route to success and the changing, sometimes-hostile world they had to navigate along the way. The focus was less on capturing a biographical account of events and more on probing the emotional side of their journey, hoping to understand what it felt like to walk such a winding and eventful road. The interviews were then distilled down to 30-minute clips and shared with a variety of songwriters who were invited to channel Carter and Fountain's words and reminiscences into song.
NPR Music
 recently stated "If The Blind Boys of Alabama's surviving founders, Clarence Fountain and Jimmy Carter, never get around to writing their memoirs, the autobiographical slant of the legendary gospel group's new album, 
Almost Home
, will be close enough." 
Billboard
 also raved "Formed more than 70 years ago, the Gospel act is still making music – and plowing unique musical ground."
Since the original members first sang together as children in the late 1930s, the Blind Boys of Alabama have persevered to become one of the most recognized and decorated roots music groups in the world. In addition to receiving five Grammy Awards, they are members of the Gospel Music Hall of Fame and the Alabama Music Hall of Fame, and have collaborated with everyone from Stevie Wonder and Prince, to Lou Reed and Bon Iver.
Tour Dates:
12/02 – New Haven, CT @ Shubert Theatre#
12/03 – Peekskill, NY @ Paramount Hudson Valley Theater#
12/04 – Kitchener, Canada @ Centre in The Square
12/09 – Cohoes, NY @ Cohoes Music Hall
12/10 – Great Barrington, MA @ Mahaiwe Performing Arts Center#
12/15 – Orange, CA @ Musco Center at Chapman#*
12/16 – Santa Barbara, CA @ UCSB Campbell Hall#*
12/17 – Los Angeles, CA @ The Ace Hotel#*
12/19 – San Luis Obispo, CA @ Christopher Cohan Center#*
12/21 – Edmonds, WA @ Edmonds Center for the Arts#
12/22 – Bremerton, CA @ Admiral Theatre#
01/12 – Marion, IN @ Indiana Wesleyan University
01/18 – Rohnert Park, CA @ Green Music Center at Sonoma State University+
01/19 – Livermore, CA @ Bankhead Theater
01/20 – Redding, CA @ Cascade Theater
01/21 – Bend, OR @ Tower Theatre
01/23 – Mount Vernon, WA @ Lincoln Theatre
01/25 – Wenatchee, WA @ Numerica Performing Arts Center
01/26 – Kirkland, WA @ Kirkland Performance Center+
01/27 – Tacoma, WA @ Broadway Center for the Performing Arts
01/31 – Medicine Hat, Canada @ Esplanade Arts & Heritage Center
02/01 – Calgary Canada @ Jack Singer Concert Hall
02/02 – Sherwood Park, Canada @ Festival Place
02/04 – Salem, OR @ St. Paul's Episcopal Church
02/16 – New York, NY @ Lincoln Center/American Songbook Series
02/17 – Hampton, VA @ American Theatre
03/16 – Morristown, NJ @ Mayo Performing Arts Center
03/17 – Collingswood, NJ @ Scottish Rite Auditorium
03/18 – Wesbury, NY @ NYCB Theatre+
04/29 – Wilkesboro, NC @ Mission Temple Fireworks Revival
05/11 – Athens, GA @ Hodgson Concert Hall at University of Georgia