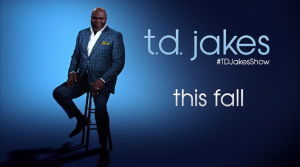 Bishop T.D. Jakes' new syndicated talk show will air on the Oprah Winfrey Network starting in September.
In a message posted to the show's Facebook page , Jakes announced that the partnership with OWN was solidified.
"Every now and then you get an opportunity that makes you so excited you get goose pimples. That's my attitude today," Jakes said in the video.
"We are going to reach you through OWN. The partnership has been done. The contract has been signed. All you got to do is hit the remote control and you can see me on OWN."
Earlier this year it was announced that the "T.D. Jakes Show," a daily talk show program hosted by the head of The Potter's House Church in Dallas, Texas, was going to be broadcast in 50 U.S. markets starting in September following a successful limited test run in select cities last summer.
"T.D. Jakes is a powerful, highly visible and well respected figure across a variety of media and social platforms. His inimitable approach and innate ability to connect with people will bring a welcome, positive new addition to the daytime television landscape," said Bob Sullivan, senior vice president of programming for TEGNA Media, in a statement earlier this year.
"With Jakes as host, we look forward to a long, successful run of impactful content that will undoubtedly draw large audiences and make a lasting impression on viewers across multiple platforms," Sullivan added.
Jakes' talk show will premiere on 70 affiliates on Sept. 12, with OWN debuting the program the following week on Sept. 19, according to the Hollywood Reporter.
"Oprah and OWN have a wonderful, long-running relationship with Bishop Jakes," said OWN president Erik Logan in a statement, as noted by the Reporter. "We are thrilled to welcome his new talk show and unique, inspirational voice to the OWN family."