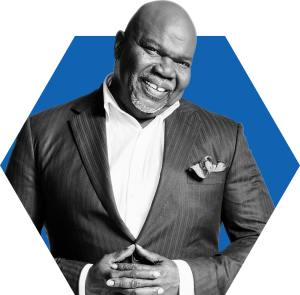 Thousands of leaders across the globe are attending a three-day gathering for teaching and training across multiple fields and spheres of influence. This year's International Pastors & Leadership Conference will be held in Tampa, April 25 – 27, and was inspired by Bishop T.D. Jakes' best-selling book, 
SOAR!: Build Your Vision from the Ground Up
.
Bishop T.D. Jakes, entrepreneur and senior pastor of The Potter's House, has convened a team of thought leaders, speakers and executives to provide advanced training in relationships, processes, workflows, investments, marketing, advertising, communication and more. The conference will also address today's cross-generational environments. Breakout session topics include cyber security, mental health, staff diversity, social justice, the art of preaching, artist development and how to handle change. Jakes will also be unveiling his latest book, Crushing: God Turns Pressure into Power.
WHAT:
2019 International Pastors & Leadership Conference
WHEN:
April 25 – 27
WHERE:
Tampa Bay Convention Center
333 S. Franklin St.
Tampa, FL 33602
MAIN SESSION SCHEDULE:
       Thursday, April 25
11 a.m. – 1 p.m. ET: Bishop T.D. Jakes
5 – 6:30 p.m. ET: Global Think Tank: Memoirs of a Change Agent with Bishop T.D. Jakes and Robert Brown
7 – 9 p.m. ET: Pastor Touré Roberts
Friday, April 26
11 a.m. – 1 p.m. ET: Pastor Craig Groeschel
5 – 6:30 p.m. ET: Global Think Tank: The Common Ground with Corey Anthony
7 – 9 p.m. ET: Bishop Dr. Pat McKinstry
       Saturday, April 27
9 – 11 a.m. ET: Cynthia Marshall
11 a.m. – 1 p.m. ET: Bishop T.D. Jakes
Bishop T.D. Jakes, senior pastor of The Potter's House
Pastor Craig Groeschel, co-founding and senior pastor of Life Church and host of The Craig Groeschel Leadership podcast
Pastor Touré Roberts, founder of The Potter's House at One LA and lead pastor of The Potter's House of Denver
Pastor Miles McPherson, former NFL player and founding pastor of Rock Church
Bishop Dr. Pat McKinstry, pastor of Worship Center Church
Cynthia Marshall, CEO of the Dallas Mavericks
Stedman Graham, chairman and CEO of S. Graham & Associates
Marquis Boone, founder and CEO of Marquis Boone Enterprises
Dr. Antipas L. Harris, founding dean of Urban Renewal Center and manager at Antipas Enterprises
Dr. Anita Phillips, minister and licensed therapist
Bishop Walter S. Thomas Sr., pastor of New Psalmist Baptist Church
Bishop Noel Jones, pastor of The City of Refuge Church
The Rev. Tony Lee, founder and senior pastor of Community of Hope A.M.E. Church