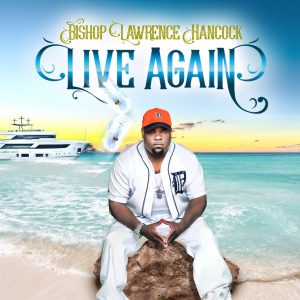 One of Gospel music's most-buzzed about emerging artists on the gospel music scene; Bishop Lawrence Hancock is releasing his third album. The new project Live Again delivers an uplifting declaration of faith with the musical backdrop of Hip Hop, Neo-Soul and Adult R&B.
The initial gospel radio single "You Prosper Me," is currently #47 on the Digital Radio Tracker Top Gospel Songs Chart. "You Prosper Me," is a song about gratitude and thanksgiving, features gospel saxophonist Arthur Bishop. The retro-soul styled song boasts a little old school groove similar in style to `80s R&B groups such as Cameo or The Gap Band. A producer and songwriter, Hancock has creatively crafted each song to reflect his passion for his faith.
Live Again takes the listener on a musical journey with God. Harold Haynes joins Bishop Hancock on the funky "Work It Out" while Hancock takes a reverential stance on "Adonai" and "Abba Father," two praise and worship styled anthems. "Live Again" is a beautiful piano ballad while "The Place I Belong" has a thumping club rhythm.  "My desire is to create music that encourages the listener to connect with God when the music hits them," Hancock says. Live Again will be available on digital outlets everywhere beginning October 28th.
A Toledo, OH native, Bishop Hancock attended the Berklee College of Music and DePaul University. He is pastor of the Final Harvest Church in Toledo, OH.  He released his debut album "Trust Him" (it won a Thomas A Dorsey Gospel Music Convention Song Of The Year Award) in the fall of 2013 and followed up with his sophomore project "My Destiny" in the spring of 2015.