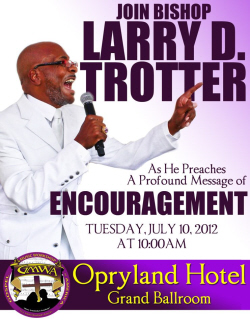 As Bishop Larry Trotter continues to share his life story with Pastors, leaders and the body of Christ, he is also making special stops across the country encouraging others with his testimony.
One of Bishop Trotter's many stops will be at the 2012 GMWA Convention in Nashville, TN. Every year, during the GMWA Convention, attendees are encouraged during the "Morning Glory" services, which kick off the daily convention activities.
This year, Bishop Trotter will deliver a Profound Message of Encouragement during one of the GMWA "Morning Glory" services on July 10th.
Bishop Trotter's message will encourage attendees to still believe no matter what they see and also how to maintain their relationship with God.  Bishop Trotter wants others to understand that they are not alone and that God is there and able to restore.
Attendees will also hear first hand Bishop Larry Trotter's story of struggle, stress, and success and how he never lost faith in God and His promises.
Bishop Trotter is truly excited to participate in one of many 2012 GMWA activities. He will deliver the Profound Message of Encouragement in the Grand Ballroom of the Opryland Hotel at 10am.
The "Morning Glory" message will definitely come from a pure and sincere place in Bishop Trotter's heart and also from his own personal testimony.
"Balance is brought on by Discipline. To Live above SEE level, you have to exercise great discipline." –Bishop Larry Trotter
For More Info on the 2012 GMWA "Morning Glory" Service visit:http://www.gmwanational.net/2012Convention.htm