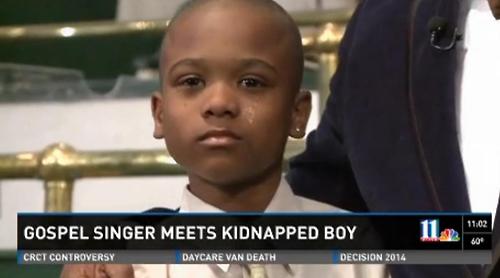 Bishop Hezekiah Walker's "Every Praise" saved the life of 10-year-old Willie Myrick of Atlanta. The young boy was playing outside with his puppy when a man grabbed him and forced him into a car.
"He was cursing at me telling me to shut up and didn't want to hear a word from me," Willie told ABC affiliate WSB-TV. "He said if I told anyone, he would hurt me, like in a bad way."
According to reports, Willie began singing "Every Praise" until the suspect, who had been driving around for almost three hours, finally threw him onto the street and drove away. Touched by Willie's story, Hezekiah Walker flew to Atlanta to meet the young man. Walker told WSB-TV that he believes God spoke through him to "save that boy's life."
"You never know who you're going to touch," the Gospel singer said.
According to CBS Atlanta, there's $10,000 reward for the capture of the man who kidnapped Willie. The suspect is described as a black male in his mid- to late-20s. He is said to have been wearing khaki shorts and a white, short-sleeve shirt with a Nike logo at the time of the abduction.