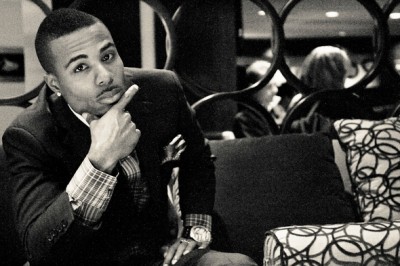 Former Chart-Topping Hip Hop/R&B Crooner J. Long is a Born Again Christian now and no longer performs secular music. Many remember J. Long for his smash radio single "Personal Freak" featuring platinum selling Hip Hop/R&B Group Pretty Ricky off of his debut CD GIRL LISTEN, which peaked at #4 on the Billboard Charts and "I'm Fly" featuring Hip Hop artist Lil Webbie, which climbed to the #19 position on the Top URBAN INDIE/MEDIABASE CHARTS.
After four successful independent projects, various top-tier HD concept music videos, high profile performances in front of 20,000+ fans, appearances on BET's 106 & Park, touring with Grammy Winner Chris Brown, Pretty Ricky, Omarion, Mike Jones, among others, national and international media attention, J. Long, once dubbed "The New King of the Bedroom" has decided to change his walk and ways as he states by getting baptized and saved proclaiming Jesus Christ as his personal Lord and Savior.
CLICK HERE TO SEE J. LONG'S TESTIMONY & BAPTISM
Growing up in a family of singers and musicians, J. Long himself growing up in church played the piano, drums and other instruments. At 14 years old J.Long initially gave his life to Christ, however his road wasn't always a picture perfect one. In 2008, J. Long was introduced to a different world – A world fueled with drugs, sex, money, women, among other things.
Being dragged through the sometimes muddy industry waters J. Long has managed to come out clean! Not without struggle, J. Long exceeded expectations and was signed to NBA player Steve Francis ISOH Entertainment record label fresh out of high school. Steve Francis was later traded to another NBA team and the big deal fell through. Jumping into an immediate 'survival of the fittest' mode, J. Long decided to make it happen on his own. Making a tough decision that would've garnered him millions of dollars, J. Long decided that the best road to take was one that would ultimately glorify God.
J. Long left the R&B/Hip Hop industry because he didn't feel right about the message he was sending out to young people. J. Long felt convicted and knew he didn't want to face the end result of serving anyone else but God. "God tells us once we accept his son Jesus, go and be baptized", states J. Long, "I wanted it to be known publicly that even me as an R&B Singer could change his ways."
This gifted singer, songwriter, producer, actor and business man still continues to make his mark in the ever so competitive music industry. The music industry's demand for multifaceted artists serves as no threat to him.
J. Long is currently prepping for his debut Christian Hip Hop CD release entitled, R&B (REDEEMED & BLESSED) via his independent label J. Fam Music. His first single "Shake The Devil Off" – an uptempo feel good tune that encourages listeners despite their current situations to take authority over the enemy will be serviced to internet and terrestrial radio in June – A concept music video will follow. Marketing and publicity efforts will be powered by the J. Hardy Agency.
J. Long is also featured on his artist BIG RICH concept music video "Jesus I Need You", which has spawned over 34,000 viral hits in less than 60 days.
Additionally, J. Long is gearing up for promotional performances and interviews, which includes an exclusive interview with mega online entertainment news portal Yahoo! Music in Los Angeles during BET Awards week.
J. Long currently resides in Houston, Texas, he's a father of one and is a member of Clear Creek Community Church in Leauge City, Texas.