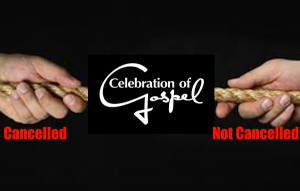 Last week, uGospel.com reported that BET's Celebration of Gospel was cancelled, however, according to sources, the show will go on.
According to a reliable source, BET planned to cancel the show due to lack of advertisers and could no longer justify production costs. Plans were made prior to the 2014 taping for it to be the last installment of the on-air special.
Now sources are telling us that the show is NOT CANCELLED and is indeed returning in the Fall of 2015. Celebration of Gospel will be switching positions with Black Girls Rock, in which Black Girls Rock will air March of 2015.
Allegedly, BET will NOT be making any official statements to this cancellation or non cancellation of Celebration of Gospel. What do you think of the situation? Do we deserve answers? Comment below!