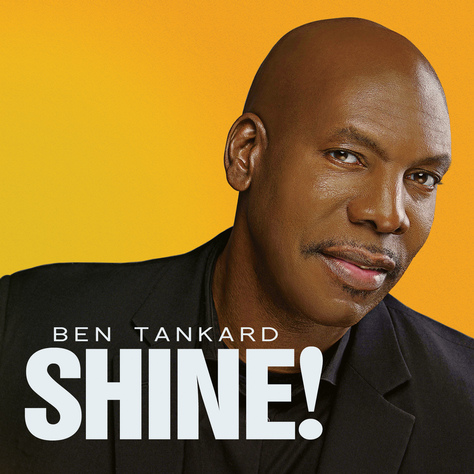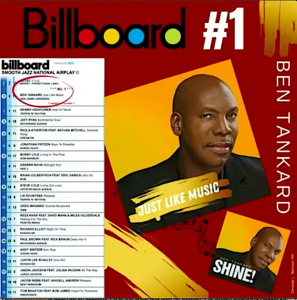 Ben Tankard has been giving us music to vibe to for over three decades.  His catalog of hits is vast and has earned the Stellar Award Honors Hall of Fame inductee an astonishing wall of awards and platinum-selling records. He is the godfather of Gospel Jazz and invited fans to RISE! in 2018 with his hit record that remained on the charts for over 3 years.  This year, he encouraged us to SHINE! to an album that continues to prove why Tankard is a quintessential artist!
SHINE! was #1 on Amazon Hot New Releases and includes epic songs that cross cultures and demographics.  Tankard remakes "How Deep Is Your Love", the Bee Gee's classic hit from the 70s, and then puts a smooth groove on Gospel music icon Kirk Franklin's "Melodies From Heaven".  Adding yet another milestone to his career, Tankard has reached #1 again on the Billboard Smooth Jazz National Airplay Chart this week with his soulful rendition of Marvin Gaye's "Just Like Music".
In addition to the radio success of "Just Like Music", the song has been selected as the theme music for season 4 of Tankard's hit reality TV show Thicker Than Water: The Tankards.
"I am super excited about the tremendous response we have had at radio and retail for this new CD and equally geeked about the new season of our show," Tankard says. "Since I am the Executive Producer (aka..BOSS) this time, I was able to use ALL of my own music for the music beds and feature music performances each episode.  That was hard to do when we were with Bravo because they tend to lean more toward conflict storylines rather than music and creativity."
Season 4 of the hilarious and sometimes dramatically gripping family docu-series is distributed and produced in partnership with The Tankards and noted film producer Carl Jackson.  Jackson owns CJC Television Network, a family-themed network reaching over 70 million homes in the U.S. It features movies, series, and inspirational music concerts.
"This time we are our own boss, inspired by Tyler Perry to own the content, and we are streaming it directly to our fans via Amazon, Tubi, and CJC Network, a first time for a Smoothjazz and Gospel artist," says Tankard.
Thicker Than Water: The Tankards Season 4 will begin streaming in late August on Amazon, Tubi, and CJC platforms. This season will give viewers a backseat view of life with the Tankards as they navigate family, music, business, and ministry while flying their planes to homes in 4 states.  Sneak peek Season 4 opener here and look for the full trailer soon.  Fans can also catch up on seasons 1-3 streaming now on Amazon.com, which is the home to all things Ben Tankard: 22 music CDs and 2 authored best-selling motivational books.