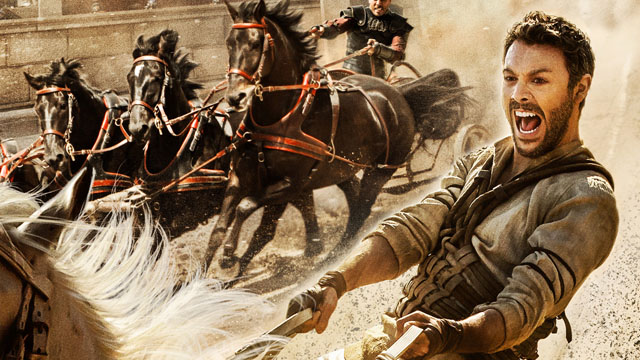 Timur Bekmambetov's Ben-Hur was shut out of the box-office chariot race this weekend, debuting to a mere $11.4 million from 3,804 theaters despite a hefty production of nearly $100 million and getting beat by a pair of smaller new films, War Dogs and Kubo and the Two Strings.
Ben-Hur narrowly beat holdover Pete's Dragon to place No. 5.
Ben-Hur — which was slammed by critics but earned an A- CinemaScore — is the latest sword-and-sandal movie to underperform. It also hoped to wow faith-based moviegoers, but even that effort lagged. (The film counts Hollywood Christians Mark Burnett and Roma Downey, the producing team behind the 2014 hit movie Son of God and the 2013 miniseries The Bible, among its executive producers.)
MGM partnered with Paramount in making Ben-Hur and put up the majority of the financing, or 80 percent. Overseas, the epic rolled out in about a third of the marketplace, grossing $10.7 million for a global start of $22 million. It performed best in Mexico and Brazil.
"This has definitely been a rough summer for remakes and sequels," said Rob Moore, vice chairman of Paramount.
Younger moviegoers had virtually no interest in seeing Ben-Hur. According to MGM and Paramount, 95 percent of the audience was over the age of 25. The movie skewed slightly female (51 percent).
Jack Huston, Toby Kebbell, Rodrigo Santoro, Nazanin Boniadi and Morgan Freeman star in the pic, a reimagining of Lew Wallace's 1880 novel Ben-Hur: A Tale of the Christ and not a remake of the classic 1959 film. (Burnett has billed the movie as a "story of forgiveness with an underlying story of Jesus.")
Paramount's Noah (2014) and Fox's Exodus: Gods and Kings (2014) were likewise big-budget offerings that hoped to appeal to all demos, including faith-based moviegoers. Noah opened to a solid $47 million, while Exodus: Gods and Kings took in only $24 million.