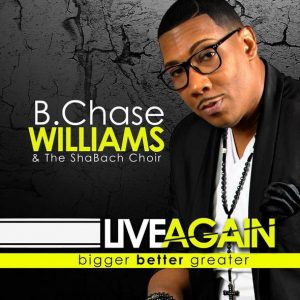 After a 10 year hiatus, B. Chase Williams was lead to reunite with his original vision; the reuniting of The ShaBach Choir and a 2013 recording. This reunion proved to be most beneficial. With new music and a new label home found in DREAM Gospel, B. Chase Williams & The ShaBach Choir are back with "LIVE Again BIGGER, Better, Greater."
B. Chase Williams is a native of Cincinnati, Ohio. Some of his musical influences include Gospel Music pioneers the late Reverend James Cleveland and Charles Fold. In 1991 Chase, as he's affectionately known, relocated to Atlanta in 1991 where he founded the ShaBach Choir. In 1994 B. Chase Williams solidified his first national recording contract with then Intersound Records.
His debut release entitled "Take A Trip" hit number #2 on Billboard gospel charts, and remained in the top 20 at radio for over 18 weeks. In 1998 Williams released his sophomore effort "Give It Up." This release didn't at all mirror the success of his previous release. Uncertain of how to navigate the industries current transition Chase refocused serving the music department of the local church.
"When I realized that this gift and call on my life was not for me but only for GOD, my everything CHANGED! I re-aligned my entire life with the will of GOD and became a good steward over that which HE invested in me. It was then that GOD could trust me and began to restore unto me that which I thought I had lost! When I thought it was over, HE breathed the breath of life back into me and said Live Again but this time Bigger, Better & GREATER!!!! Dreams Do Come True."-B. Chase Williams
"Great, timeless music and artists never die, they just rest! B. Chase Williams' music is great and definitely for the times. I'm excited that he's gotten up from his rest to take us to the next level."
-Joe Flip Wilson, VP/A&R eOne Entertainment
"Finally! I have been a fan for many years. From stirring up the presence of God to their unique spark of stage performance. Radio and fans get ready, 2014 will be blessed by the awesome music ministry of B. Chase Williams & The ShaBach Choir!"
-Tracy Bethea, Radio Personality, Clear Channel Communications
"B. Chase Williams and The ShaBach Choir came to us the in 90's and now they are back. The old is gone and the new is here. Get ready to enjoy."
-Dr. Ricky Dillard, Gospel Recording Artist
Look for B. Chase Williams' new single "We've Come to Praise" this April with a full release slated for late summer.