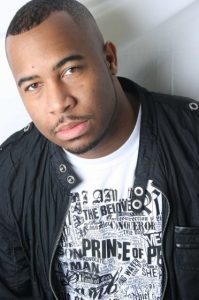 Del Lawrence (aka Mr. Del) is a Grammy, Dove, and Stellar nominated music artist, author, and Love & Life Coach from Memphis, TN.  His dynamic, raw, and empowering seminars are captivating audiences and changing lives across the country.
Lawrence authored a popular book series called SOUL TIES which includes: Soul Ties: How To Detox From Toxic Relationships and Soul Ties 2: Love, Lust, & Lies.  Lawrence has been impacting lives each month with messages from the Soul Ties series in various cities and now announces new dates for his Fall 2019 SOUL TIES TOUR.
On his SOUL TIES TOUR, Lawrence will share inspiring topics and hardcore truths about gaining freedom from patterns that may keep people burdened and bound in life-altering or meaningless relationships and situations.  His SOUL TIES TOUR dates are free to the public.  In addition, by texting "soulties" to 31996, Lawrence is offering a free bundle that includes a book, video message, and podcast. 
To find out more about Del Lawrence and if the SOUL TIES TOUR is coming to your city, visit www.DelLawrence.com.
Fall 2019 Soul Ties Tour Dates:
10/6      Courtyard  by Marriott Louisville Northeast      Louisville, KY
10/7      Hyatt Place Brentwood                                     Brentwood, TN
10/13    Holiday Inn                                                       Tampa, FL
10/20    Courtyard Atlanta/Cumberland Galleria           Atlanta, GA
10/27    Hilton Garden Inn Jackson                               Jackson, TN
11/3      Drury Plaza Hotel & Conference Center          Cape Girardeau, MO
11/4      Hyatt Place Brentwood                                     Brentwood, TN
11/10    Courtyard by Marriott Jonesboro                      Jonesboro, AR
11/17    Baymont Inn and Suites                                   Saraland, AL
11/24    Holiday Inn                                                       Tampa, FL
12/2      Hyatt Place Brentwood                                     Brentwood, TN
12/8      Holiday Inn                                                       Tampa, FL
12/15    Comfort Inn & Suites                                        Madisonville, KY
Del Lawrence transparently shares relationship topics from this book on his weekly Soul Ties Podcast and on The Mancast Podcast (with co-host T-Mo w/the Dance Moves). You can listen to both podcasts via his channel www.patreon.com/DelLawrence .
Lawrence is also a radio host.  His syndicated REVOLT RADIO SHOW can be heard each Saturday from 6PM – 7PM on iHeart Inspiration Station 97.5 Hallelujah FM in Nashville, TN.  Lawrence, along with his co-hosts MurkP31 and T-Mo With The Dance Moves, give listeners all the best in Christian Hip Hop (CHH) and Urban Gospel mixed in with plenty of laughs and a dose of daily inspiration.  REVOLT RADIO streams live each Saturday via 975hallelujahfm.iheart.com and airs each Sunday and Wednesday on 100.3 WVZM Memphis and on Power 105.5 The King Radio Atlanta every Friday and Saturday.