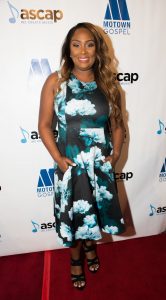 The American Society of Composers, Authors and Publishers (ASCAP), along with Motown Gospel, celebrated the most prestigious names in gospel music at the 10th annual ASCAP "Morning Glory" Breakfast, honoring the 2019 Stellar Awards nominees at The Mirage Hotel in Las Vegas. Hosted by Motown Gospel artist and television personality Lexi, the exclusive invite-only reception is one of the premier events leading up to the 34th Annual Stellar Gospel Music Awards.
The program began with opening welcome remarks from ASCAP Senior Director of Membership Jonathan 'JJ' Jones. Host Lexi delivered a heartwarming opening prayer and kicked off the breakfast with an introduction of Co-Executive Director of Motown Gospel, EJ Gaines.
Uplifting performances by Motown Gospel artists included the newly signed husband & wife duo, Jerard & Jovaun, who delivered the Hillsong Worship anthem, "What A Beautiful Name," with a riveting gospel flair. Labelmate Gene Moore debuted "Ask for Rain," written by Jason Nelson and produced by Terence Vaughn, from his forthcoming sophomore album. Before his performance, Moore gave a personal testimony, explaining that he faced a storm of adversities last year and simply "asked God for rain." His performance brought the audience to their feet. Moore's last album, The Future, earned him a 2018 Stellar nomination for New Artist of the Year.
"We are thrilled to celebrate the 10th anniversary of the "Morning Glory" Breakfast with Motown Gospel as our longtime partner," said Nicole George-Middleton, ASCAP Senior Vice President of Membership. "Every year this event becomes more meaningful than the last and truly represents the spirit of gospel music. The energy in the room is always uplifting and inspirational. We congratulate all of our ASCAP members on their Stellar Award nominations."
ASCAP executives Jones, Lauren Gaspard and Jason Reddick presented each ASCAP member and Stellar Awards nominee in attendance with a plaque to commemorate their musical accomplishments this year.
Monica Coates, Co-Executive Director, Motown Gospel, also imparted meaningful remarks about Brian Courtney Wilson, as he was surprised with a special plaque to celebrate his #1 single, "A Great Work." The song, from the Stellar and GRAMMY®-nominated album of the same name, has become the fastest-rising radio single of Wilson's career.
"We are honored to partner with ASCAP once again on the 10th anniversary of "Morning Glory," said EJ Gaines, Co-Executive Director, Motown Gospel. "It's a wonderful opportunity to highlight some of our exciting new releases, while showing our appreciation to the gospel music community and recognizing the incredible talents of our artists and writers."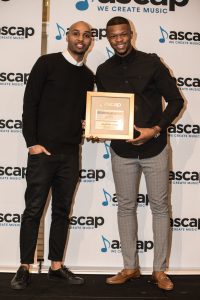 The room was full of gospel music's most notable names, influencers and Stellar Awards nominees including: Brian Courtney Wilson, Tasha Page-Lockhart, Kelontae Gavin, Sensere, Janice Gaines, Marcus Hodge, Bryan Popin, Jarrell Smalls, Christina Bell, Benita Jones, Jason Nelson, Loren Hill, Demetrius West, The Wardlaw Brothers, Vincent Bohanan, Jabari Johnson, Todd Dulaney, Brenton Brown, Shelby 5, Livre, Casey J, Charles Butler, Dexter Walker, Phil Thompson and Javen.