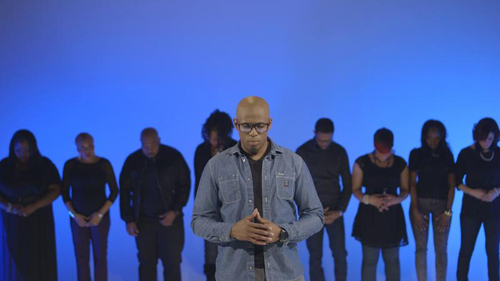 A fan favorite, "Water" is a song solely focused on worship time with God. In this fast paced world, it's essential to slow down and truly tap into that one-on-one experience with God. According to Anthony, he wrote "Water" with this exact purpose in mind.
The video further ads to the mood that this song creates. Teaming up again with Stellar Award winning production team, Brand X Media, the "Water" video is visually soothing with interchanging shots of flowing water and emotional performance shots from the group. It's truly an experience.
As a worship leader, Anthony knows how to select songs that bring excitement to a congregation but he also knows the value of worship time, both corporately and individually. In fact, Anthony desires to help other ministries across the country by launching 30 Days of Water + Worship, a unique, interactive worship initiative.
Starting in late summer, Anthony will be heading into churches across the country develop conducting workshops on the importance of worship. During session, worship leaders as well as praise teams and choirs, will have the opportunity to learn important tools from Anthony Brown himself.
In other news, the group is preparing to embark on their 2nd major tour as one of the featured acts on the 2014 McDonald's Inspirational Tour. The group will visit several major markets performing selects cuts from their latest award-winning CD:
| | | |
| --- | --- | --- |
| 5/22/14 | Mount Airy Church of God In Christ | Philadelphia, PA |
| 5/23/14 | Ebeneezer AME Church | Fort Washington, MD |
| 6/6/14 | Wake Chapel Church | Raleigh, NC |
| 6/19/14 | Greater Bethlehem Temple Church | Jackson, MS |
| 6/20/14 | New Salem Baptist Church | Memphis, TN |
| 6/27/14 | Greater Grace Temple | Detroit, MI |
| 6/28/14 | Chicago Gospel Music Fest | Chicago, IL |
| 7/9/14 | Full Gospel Baptist Conference | Atlanta, GA |
| 7/24/14 | West Angeles Church of God in Christ | Los Angeles, CA |
| 7/25/14 | Paramount Theater | Oakland, CA |