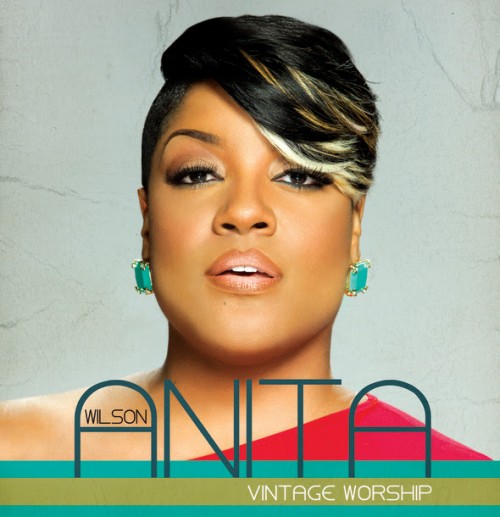 Motown Gospel's Grammy®, Dove, and Stellar-nominated songstress Anita Wilson returns with her highly anticipated sophomore album, VINTAGE WORSHIP, available in stores and online everywhere today. VINTAGE WORSHIP debuts at #2 on the iTUNES Christian/Gospel Top 100 albums chart as well as #40 on the overall iTunes Top 200 Albums Chart.
Living up to its title, the album's vintage sounds borrow elements of traditional gospel, R&B, pop, rock, and funk to forge a fresh musical melting pot. Inspired by legendary acts like The Hawkins and The Winans to the greats of classic soul like Diana Ross and Donnie Hathaway, Wilson's contemporary take on gospel and soul music has helped her create a musical lane all her own – a feat evidenced in plenty via the project's first two singles "That's What He's Done For Me" and "Keep Doing What You're Doing." While the former marched to radio as a horn-filled, foot-stomping gospel groove, "Keep Doing What You're Doing" – the album's current single – soothes as a retro-R&B inspired number.
As both tunes continue to impact radio, Wilson continues a whirlwind promotional tour in support of the forthcoming project. Kicked off to critical acclaim via a host of exclusive listening sessions for industry tastemakers in cities across the United States including New York City, Chicago, Atlanta, Los Angeles, Nashville, and more , forthcoming visits include BET.com, Arise Entertainment 360, and Sirius XM Radio (among others). The soulful songstress will continue her promo trek with upcoming appearances and performances at the Essence Music Festival, Tom Joyner Morning Show, BET's "Bobby Jones Gospel," AIM Convention, and a number of album release concerts.
Anita is a Grammy, Stellar, and Dove-award nominated singer who first found notoriety as part of the Grammy®-nominated ensemble Donald Lawrence & Company, Wilson's strike to the solo stage – via her debut album Worship Soul – was accompanied by a bevy of critical acclaim. Recognized by the New York Times' Ben Ratliff as one of "2012's top ten albums", the album introduced the masses to Wilson as a new frontrunner for progressive Urban contemporary gospel.