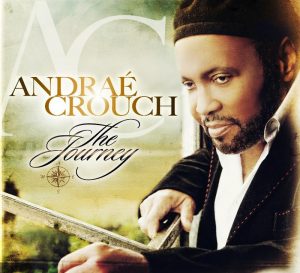 Living legend, ANDRAÉ CROUCHreceived 3 Dove Award nominations today; which were announced at a press conference in Atlanta, GA.
THE JOURNEY, the icon's first album in over 6 years was released this summer on Riverphlo Entertainment and features 15 power-filled songs. Teaming up with long time producer & friend, Riverphlo president/CEO Luther "Mano" Hanes, Crouch offers what has widely been considered the best album of the year.
Crouch was recognized in two song categories this year; Traditional Gospel Recorded Song of the Year for the current popular single, "Let The Church Say Amen," featuring Pastor Marvin Winans and Contemporary Gospel Recorded Song of the Year for his first single "The Promise."
THE JOURNEY also garnered a nomination in the Special Event category; for it's collection of timeless songs and heavy-hitting collaborations, including Chaka Khan, Sheila E., Kim Burrell, Take 6, Marvin Winans and more.
Crouch is a multiple Dove Award nominee and winner and has won 10 previous Dove Awards. This year he was also nominated for a Grammy Award for Best Gospel Album and received an NAACP Image Award Nomination for Outstanding Gospel Album.
Celebrating a life-long career that has included numerous accomplishments: 18 solo albums, 9 Grammy Awards, and countless accolades. THE JOURNEY entered in the Top 10 on Billboard's Gospel chart and was Crouch's highest debut on Billboard's Gospel Chart in recent times.
The 43rd Annual GMA Dove Awards will take place April 19 at the Fox Theater in Atlanta. The award show is produced by the Gospel Music Association (GMA); which is dedicated to celebrating the Gospel through music of all styles including Pop, Rock, Praise & Worship, Urban Gospel, R&B, Hip Hop, Southern Gospel, Bluegrass, Country and more.
Available now is Crouch's My Life, My Music, My Journey Collectionoffered on http://www.ACTheJourney.com/. This special bundle is a comprehensive package that includes, THE JOURNEY CD & bonus DVD (includes interview and performance footage from the exceptional recording process of the album); "Live In Los Angeles" concert DVD (recorded last Summer with 14 live tracks of classic Crouch hits); an enhanced single of "The Promise" (includes instrumental track, music video and sheet music); an autographed picture of Andraé Crouch and THE JOURNEY songbook.
THE JOURNEY has also received critical acclaim. Andraé was featured in Essence.com, CCM Magazine, TheGrio.com, Christianity Today, NPR, the 700 Club, Tavis Smiley Radio Show and others. Crouch was honored at Verizon's How Sweet The Sound Choir Competition where he was presented the "LIVING LEGEND" award, by fellow icon Chaka Khan.
THE JOURNEY is distributed by Universal Christian Music Group/ Fontana Distribution. For more information log onto 
www.ACTheJourney.com
.