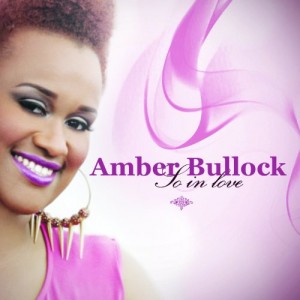 Music World Gospel recording artist Amber Bullock, soared to the top of the gospel music charts after capturing the hearts of millions as she topped a talented field of singers to become the 2011, Season 4 winner of BET's Sunday Best, the #1 rated weekly gospel music competition show. Her debut CD project, Thank You, was released in December, 2011, on Mathew Knowles' Music World Gospel label. The EP entered at #1 on Billboard's Top Gospel Albums chart. Thank You featured the Top 10 Billboard hit, "Thank You Lord," a rendition of Walter Hawkins' anthem as well as other contemporary classic songs.
Bullock, the St. Louis native and single mother of three-year old Amya, is building a diverse fan base with her signature jazz-infused and neo-soul inspired style. Her unique approach to gospel and inspirational music is front and center on her sophomore CD project, So In Love, which will be available in stores and online everywhere on July 10, 2012.
So In Love is produced by PJ Morton for 2PM Music. Bullock describes their musical partnership as a "match made in heaven." The result is ten songs of feel-good inspirational music that ranges in style from neo-soul, to jazz, to contemporary gospel, to reggae, with even a little country thrown in. The songs on the CD highlight Bullock's incredible vocal range and her unique singing style.
"I love music, so I don't want to just give my listeners the same type of music that's already out there," says Bullock. "I want to give them fresh, memorable songs that they are still humming long after the song has finished playing, the kind of songs you keep on repeat." On her new CD, she does just that.
Listen to Amber's new single, "Lord You've Been So Good" below:
Bullock wrote her first single, "Lord You've Been So Good" with a friend, when she was in college. The song was updated for this CD project with the help of PJ Morton. The upbeat, neo-soul style song features a driving horn section and shows off Bullock's wide range and effortless runs. "Done For Me," was also written by Bullock, with Shaun Martin, Greg Brown and Kirk Franklin, who is featured on this song. It has a catchy tune and a powerful message about God's unconditional love. Bullock goes reggae in "I'm So In Love with You," which was penned by PJ Morton. "Second Chances," is a contemporary gospel song that Bullock describes as "dramatic" with instrumentation that features strings and an organ. The song reminds the listener that God's love and forgiveness are great gifts to us. "Changed," written by PJ Morton and featuring Isaac Carree, has a contemporary gospel style and a memorable hook. "My daughter sings along with this song every time she hears it," says Bullock.
Check out Amber in the studio with PJ and Isaac below:
The R&B style "Yes," starts with drums and keeps on pumping energy. The song, written by PJ Morton, is one of Bullock's favorite on the CD because of both the catch tune and the message. "Yes is a powerful word," she says. Written by Juante Hall and Jonathan Dunn, "Nobody Else" has jazzy undertones and a message about going to a secret place to meet only with God. "Take it Back," written by Josiah Martin, reminds us that everything we do or have comes from God. That message is delivered in a pop style song with techno-rock undertones. "Ruler" is a contemporary praise and worship song that Bullock describes as "a little bit country." Bullock continues, "My most powerful worship experience is when I'm focused on how powerful and loving God is, and how He keeps blessing me, even when I don't deserve it." The last song on the CD, "Same God," was written by Bullock and Shaun Martin. It's a simple but powerful worship song that acknowledges the faithfulness of God.
Bullock is proud of this project, which features all original songs and live music. She says that she has matured a lot musically since Thank You was released, and believes that shows in the new CD. She's hopeful that people will be blessed by the CD.