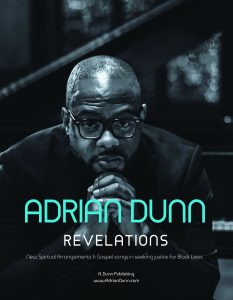 Chicago based award-winning composer, arranger and producer Adrian Dunn breathes new life into African American Spirituals with the release of his new CD and songbook collection, Revelations featuring the Adrian Dunn Singers.
Dunn offered this backstory, "Gospel songs have always been close to my heart. The songs in this collection are intentional in their unique purpose to empower, uplift and motivate. The new spiritual arrangements were inspired by the many events of my life as well as recent events in the black community at large. I have decided to set these spirituals as a way to reclaim a modern narrative for what these songs mean in today's current racial climate in America or the era of Black Lives Matter. As black men are still hunted on street corners, still we must Wade in the Water. As the mothers of slain young black boys have to ask a Precious Lord to hold their hand through the worst moments of their lives. As young people Open their Mouths to the Lord to speak righteous truth to power that taking any life is wrong & justice will be demanded right now. These songs attempt to give each one of these young lives that were stolen: Trayvon Martin, Tamir Rice, Michael Brown, Philando Castile and the countless others a very small bit of REDEMPTION & justice they never received on this side of life.
With standing ovations received from noteworthy performances over the summer at the National Convention of Gospel Choirs and Choruses (Thomas A Dorsey Convention), the Adrian Dunn Singers are now poised to celebrate the release of the work on Friday, October 27 at the Chicago Temple, located in the heart of downtown Chicago.