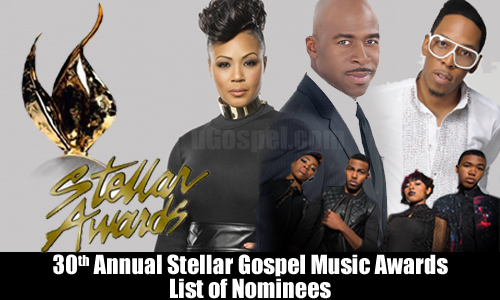 The complete list of nominees for The 30th Annual Stellar Gospel Music Awards has been announced! Below you will find the category and name of everyone nominated. Erica Campbell and Ricky Dillard lead the pack this year, earning 10 nominations each, with The Walls Group earning 8 nominations and Deitrick Haddon with 7 nominations.
The Stellar Awards, co-hosted by David and Tamela Mann with Rickey Smiley, will be held at its new location, the Las Vegas Orleans Arena on Saturday, March 28, 2015.
The Awards and Pre-show will both be held in the Orleans Showroom. The show will air in broadcast syndication on 150 stations in over 125 markets around the country from April 12 through May 3, 2015 and on the TV One network on Easter Sunday, April 5.
Category #1 – ARTIST OF THE YEAR
– ERICA CAMPBELL, HELP, MY BLOCK/EONE MUSIC
– RICKY DILLARD & NEW G, AMAZING, LIGHT RECORDS/ENTERTAINMENT ONE
– SMOKIE NORFUL, FOREVER YOURS, TREMYLES/MOTOWN GOSPEL
– THE WALLS GROUP, FAST FORWARD, FO YO SOUL RECORDINGS/RCA
Category #2 – SONG OF THE YEAR
– MICHAEL MCDOWELL & JAMES JOHNSON, YOU ALONE – YOU ALONE (ARKANSAS GOSPEL MASS CHOIR), EMTRO GOSPEL
– W. CAMPBELL, L. MOORE, H. LILLY, A. SLEDGE, H. JONES & E. CAMPBELL, HELP FT. LECRAE – HELP (ERICA CAMPBELL), MY BLOCK/EONE MUSIC
– HARMONY SAMUELS, MICHELLE WILLIAMS, H. "CARMEN REECE" CULVER & AL SHERROD LAMBERT, SAY YES FT. BEYONCE & KELLY ROWLAND – JOURNEY TO FREEDOM (MICHELLE WILLIAMS), ENTERTAINMENT ONE
– TIFFANY JOY MCGHEE, AMAZING – AMAZING (RICKY DILLARD & NEW G), LIGHT RECORDS/ENTERTAINMENT ONE
Category #3 – MALE VOCALIST OF THE YEAR
– DEITRICK HADDON, DEITRICK HADDON'S LXW, TYSCOT MUSIC & ENTERTAINMENT
– MALI MUSIC, MALI IS…, BY STORM ENTERTAINMENT/RCA RECORDS
– RICKY DILLARD, AMAZING, LIGHT RECORDS/ENTERTAINMENT ONE
– SMOKIE NORFUL, FOREVER YOURS, TREMYLES/MOTOWN GOSPEL
CATEGORY #4 – ALBERTINA WALKER FEMALE VOCALIST OF THE YEAR
– ANITA WILSON, VINTAGE WORSHIP, MOTOWN GOSPEL
– ERICA CAMPBELL, HELP, MY BLOCK/EONE MUSIC
– MICHELLE WILLIAMS, JOURNEY TO FREEDOM, ENTERTAINMENT ONE
– TASHA PAGE-LOCKHART, HERE RIGHT NOW, FO YO SOUL RECORDINGS/RCA
CATEGORY #5 – GROUP/DUO OF THE YEAR
– DONALD LAWRENCE, BEST FOR LAST, QUIETWATER/ENTERTAINMENT ONE
– JAMES FORTUNE & FIYA, LIVE THROUGH IT, FIYA WORLD/ENTERTAINMENT ONE
– THE WALLS GROUP, FAST FORWARD, FO YO SOUL RECORDINGS/RCA
– THE WILLIAMS BROTHERS, SONGS OF WORSHIP, PRAISE & DELIVERANCE, BLACKBERRY RECORDS
CATEGORY #6 – NEW ARTIST OF THE YEAR
– RUTH LA'ONTRA, SO GOOD, TYSCOT MUSIC & ENTERTAINMENT
– TASHA PAGE-LOCKHART, HERE RIGHT NOW, FO YO SOUL RECORDSINGS/RCA
– TEMPLE OF DELIVERANCE WOMEN'S CHOIR, IN THE SANCTUARY, HABBAKUK MUSIC
– UNCLE REECE, BOLD, OBED MUSIC GROUP
CATEGORY #7 – CD OF THE YEAR
– ARKANSAS GOSPEL MASS CHOIR, YOU ALONE, EMTRO GOSPEL
– ERICA CAMPBELL, HELP, MY BLOCK/EONE MUSIC
– RICKY DILLARD & NEW G, AMAZING, LIGHT RECORDS/ENTERTAINMENT ONE
– THE WALLS GROUP, FAST FORWARD, FO YO SOUL RECORDINGS/RCA
CATEGORY #8 – CHOIR OF THE YEAR
– ARKANSAS GOSPEL MASS CHOIR, YOU ALONE, EMTRO GOSPEL
– DEITRICK HADDON'S LXW, DEITRICK HADDON'S LXW, TYSCOT MUSIC & ENTERTAINMENT
– RICKY DILLARD & NEW G, AMAZING,LIGHT RECORDS/ENTERTAINMENT ONE
– THE MISSISSIPPI MASS CHOIR, DECLARATION OF DEPENDENCE, MALACO RECORDS
CATEGORY #9 -PRODUCER OF THE YEAR
– WARRYN CAMPBELL, HELP (ERICA CAMPBELL), MY BLOCK/EONE MUSIC
– RICKY DILLARD, WILL BOGLE & RICK ROBINSON, AMAZING, LIGHT RECORDS/ENTERTAINMENT ONE
– KIRK FRANKLIN, HERE RIGHT NOW (TASHA PAGE-LOCKHART), FO YO SOUL RECORDINGS/RCA
– KIRK FRANKLIN, FAST FORWARD (THE WALLS GROUP), FO YO SOUL RECORDINGS/RCA
CATEGORY #10 – CONTEMPORARY GROUP/DUO OF THE YEAR
– DONALD LAWRENCE, BEST FOR LAST, QUIETWATER/ENTERTAINMENT ONE
– JAMES FORTUNE & FIYA, LIVE THROUGH IT, FIYA WORLD/ENTERTAINMENT ONE
– THE WALLS GROUP, FAST FORWARD, FO YO SOUL RECORDINGS/RCA
– ZIE'L, PRONOUNCED ZY-EL, DREAM GOSPEL
CATEGORY #11 – TRADITIONAL GROUP/DUO OF THE YEAR
– LISA KNOWLES & THE BROWN SINGERS, THE EVOLUTION CONTINUES, ONE VOICE MEDIA
– THE CANTON SPIRITUALS, KEEP KNOCKING, MALACO RECORDS
– THE WILLIAMS BROTHERS, SONGS OF WORSHIP, PRAISE & DELIVERANCE, BLACKBERRY RECORDS
– TIM WOODSON & THE HEIRS OF HARMONY, MILLIONAIRE, MARXAN/CENTRAL SOUTH
CATEGORY #12 – CONTEMPORARY MALE VOCALIST OF THE YEAR
– DONALD LAWRENCE, BEST FOR LAST, QUIETWATER/ENTERTAINMENT ONE
– DEITRICK HADDON, DEITRICK HADDON'S LXW, TYSCOT MUSIC & ENTERTAINMENT
– MALI MUSIC, MALI IS…, BY STORM ENTERTAINMENT/RCA RECORDS
– SMOKIE NORFUL, FOREVER YOURS, TREMYLES/MOTOWN GOSPEL
CATEGORY #13 – TRADITIONAL MALE VOCALIST OF THE YEAR
– DONNIE MCCLURKIN, DUETS, RCA INSPIRATION
– EARNEST PUGH, THE W.I.N. (WORSHIP IN NASSAU) EXPERIENCE, P-MAN MUSIC
– RICKY DILLARD, AMAZING, LIGHT RECORDS/ENTERTAINMENT ONE
– WILLIAM MCDOWELL, WITHHOLDING NOTHING, DELIVERY ROOM MUSIC/ENTERTAINMENT ONE
CATEGORY #14 – CONTEMPORARY FEMALE VOCALIST OF THE YEAR
– ANITA WILSON, VINTAGE WORSHIP, MOTOWN GOSPEL
– ERICA CAMPBELL, HELP, MY BLOCK/EONE MUSIC
– KIERRA SHEARD, GRACELAND, INDEPENDENT
– TASHA PAGE-LOCKHART, HERE RIGHT NOW, FO YO SOUL RECORDINGS/RCA
CATEGORY #15 – TRADITIONAL FEMALE VOCALIST OF THE YEAR
– BEVERLY CRAWFORD, THANK YOU FOR ALL YOU'VE DONE, ECHO PARK/JDI
– LISA KNOWLES, THE EVOLUTION CONTINUES, ONE VOICE MEDIA
– RUTH LA'ONTRA, SO GOOD, TYSCOT MUSIC & ENTERTAINMENT
– SHERI JONES-MOFFETT, POWER & AUTHORITY: LIVE IN MEMPHIS, MOTOWN GOSPEL
CATEGORY #16 – CONTEMPORARY CD OF THE YEAR
– DEITRICK HADDON'S LXW, DEITRICK HADDON'S LXW, TYSCOT MUSIC AND ENTERTAINMENT
– ERICA CAMPBELL, HELP, MY BLOCK/EONE MUSIC
– SMOKIE NORFUL, FOREVER YOURS, TREMYLES/MOTOWN GOSPEL
– THE WALLS GROUP, FAST FORWARD, FO YO SOUL RECORDINGS/RCA
CATEGORY #17 – TRADITIONAL CD OF THE YEAR
– ARKANSAS GOSPEL MASS CHOIR, YOU ALONE, EMTRO GOSPEL
– DONNIE MCCLURKIN, DUETS, RCA INSPIRATION
– RICKY DILLARD & NEW G, AMAZING, LIGHT RECORDS/ENTERTAINMENT ONE
– WILLIAM MCDOWELL, WITHHOLDING NOTHING, DELIVERY ROOM MUSIC/ENTERTAINMENT ONE
CATEGORY #18 – URBAN/INSPIRATIONAL SINGLE OR PERFORMANCE OF THE YEAR
– DEITRICK HADDON'S LXW, GREAT GOD, TYSCOT MUSIC AND ENTERTAINMENT
– ERICA CAMPBELL, HELP FT. LECRAE, MY BLOCK/EONE MUSIC
– JAMES FORTUNE & FIYA, LIVE THROUGH IT, FIYA WORLD/ENTERTAINMENT ONE
– MICHELLE WILLIAMS, SAY YES FT. BEYONCE & KELLY ROWLAND, ENTERTAINMENT ONE
CATEGORY #19 – MUSIC VIDEO OF THE YEAR
– FLORIAN SCHNEIDER, GREAT GOD – DEITRICK HADDON'S LXW, TYSCOT MUSIC AND ENTERTAINMENT
– BILLIE WOODRUFF, HELP FT. LECRAE – HELP (ERICA CAMPBELL), MY BLOCK/EONE MUSIC
– MR. BOOMTOWN, LOVE ON THE RADIO – FAST FORWARD (THE WALLS GROUP), FO YO SOUL RECORDINGS/RCA
– MATTHEW CHERRY, SAY YES FT. BEYONCE & KELLY ROWLAND – JOURNEY TO FREEDOM (MICHELLE WILLIAMS), ENTERTAINMENT ONE
CATEGORY #20 – TRADITIONAL CHOIR OF THE YEAR
– ARKANSAS GOSPEL MASS CHOIR, YOU ALONE, EMTRO GOSPEL
– BISHOP LARRY D. TROTTER & SHS COMBINED CHOIR, PRAISE REVISITED, UTOPIA
– RICKY DILLARD & NEW G, AMAZING, LIGHT RECORDS/ENTERTAINMENT ONE
– THE MISSISSIPPI MASS CHOIR, DECLARATION OF DEPENDENCE, MALACO RECORDS
CATEGORY #21 – CONTEMPORARY CHOIR OF THE YEAR
– CHARLES BUTLER & TRINITY, BETTER, EPM MUSIC GROUP
– DEITRICK HADDON'S LXW, DEITRICK HADDON'S LXW, TYSCOT MUSIC & ENTERTAINMENT
– LAMAR CAMPBELL & SPIRIT OF PRAISE, OPEN THE SKY, 360 MUSIC WORX/MOTOWN
– DARNELL DAVIS AND THE REMNANT, MOVING FORWARD, RCA INSPIRATION
CATEGORY #23 – SPECIAL EVENT CD OF THE YEAR
– DONNIE MCLURKIN, DUETS, RCA INSPIRATION
– VARIOUS ARTISTS, WOW GOSPEL 2014, RCA INSPIRATION
– VARIOUS ARTISTS, EARNEST PUGH PROUDLY PRESENTS GOSPEL'S RISING STARS, EPM MUSIC GROUP
– TAMELA MANN, BEST DAYS DELUXE EDITION, TILLYMANN MUSIC
CATEGORY #24 – RAP HIP HOP GOSPEL CD OF THE YEAR
– ANDY MINEO, NEVERLAND, REACH RECORDS
– DA' T.R.U.T.H., HEARTBEAT, MIXED BAG
– LECRAE, ANOMALY, REACH RECORDS
– UNCLE REECE, BOLD, OBED MUSIC GROUP
CATEGORY #25 – YOUTH PROJECT OF THE YEAR
– KENDRA SMITH, SOMETHING NEW, DIVINE RECORDS
– NYASIA, SHOOTING STAR, INSPIRING DREAMS ENTERTAINMENT, LLC
– PURE-N-HEART, ALPHAEUS ANDERSON PRESENTS PURE-N-HEART KIDS, TEENS MOVEMENT "SING THE WORD", MUSIC2CHANGEU RECORDS
– STL3, ALL THINGS NEW, PGK MUSIC ENTERTAINMENT, LLC
CATEGORY #26 – QUARTET OF THE YEAR
– LISA KNOWLES & THE BROWN SINGERS, THE EVOLUTION CONTINUES, ONE VOICE MEDIA
– THE CANTON SPIRITUALS, KEEP KNOCKING, MALACO RECORDS
– THE WILLIAMS BROTHERS, SONGS OF WORSHIP, PRAISE AND DELIVERANCE, BLACKBERRY RECORDS
– TIM WOODSON & THE HEIRS OF HARMONY, MILLIONAIRE, MARXAN/CENTRAL SOUTH
CATEGORY #27 – RECORDED MUSIC PACKAGING OF THE YEAR
– DEREK BLANKS, VINTAGE WORSHIP (ANITA WILSON), MOTOWN GOSPEL
– DEREK BLANKS, HELP (ERICA CAMPBELL), MY BLOCK/EONE MUSIC
– DEREK BLANKS, AMAZING (RICKY DILLARD & NEW G), LIGHT RECORDS/ENTERTAINMENT ONE
– JEFF GILLIGAN, FAST FORWARD (THE WALLS GROUP), FO YO SOUL RECORDINGS/RCA
CATEGORY #28 – PRAISE AND WORSHIP CD OF THE YEAR
– ARKANSAS GOSPEL MASS CHOIR, YOU ALONE, EMTRO GOSPEL
– EARNEST PUGH, JUST WORSHIP (EP), P-MAN MUSIC
– MICAH STAMPLEY, LOVE NEVER FAILS, MOTOWN GOSPEL
– WILLIAM MCDOWELL, WITHHOLDING NOTHING, DELIVERY ROOM MUSIC/ENTERTAINMENT ONE
GOSPEL RADIO OF THE YEAR NOMINEES
MAJOR MARKET OF THE YEAR
– HEAVEN 97 – KHVN 970 AM, DALLAS/FT. WORTH, CARMINA BARNETT
– WGRB – INSPIRATION 1390 AM, CHICAGO, SONYA BLAKEY
– WPZE 102.5/102.9, ATLANTA, DEREK HARPER
– WPPZ – PRAISE 103.9, PHILADELPHIA, KYLE GLOVER
LARGE MARKET OF THE YEAR
– 95.7 FM HALLELUJAH – WHAL, MEMPHIS, TRACY BETHEA
– HEAVEN 600 – WCAO 600 AM, BALTIMORE, LEE MICHAELS
– 1480 WBBP, MEMPHIS, TRACY MORGAN
– WCCD 1000 AM, CLEVELAND, DRS. DARRELL & BELINDA SCOTT
MEDIUM MARKET OF THE YEAR
– WENO 760 AM, NASHVILLE, LADY SHAUNTE GARRETT
– KMVP GOSPEL 860 AM, PHOENIX, LOUIS BLAND
– THE LIGHT 103.9 – WNNL, DURHAM, JERRY SMITH
– WXOK-AM- HEAVEN 1460 AM, BATON ROUGE, J'MICHAEL FRANCOIS
SMALL MARKET OF THE YEAR
– KSYB 1300 AM, SHREVEPORT, RHONDA PHILLIPS-SANDERS
– REIGN RADIO LIVE, EDMOND, R.A. MCCULLOUGH
– WEHA, ATLANTIC CITY, ELAINE M. HAWKES
– WGOK – GOSPEL 900, MOBILE, FELICIA ALLBRITTON
INTERNET STATION OF THE YEAR
– I AM RADIO, WWW.I-AM-RADIO.COM, BEATRICE "SISTAH PEACHES" HAYWOOD
– ALL NATIONS RADIO, ALLNATIONSRADIO.NET, BISHOP SAMUEL MCGILL III
– URBAN PRAISE, WWW.MOODYRADIO.ORG/URBANPRAISE, EFFIE ROLFE
– YES LORD RADIO, YESLORDRADIO.COM, ELDER HOWARD C. YOUNG III & RODRICK J. WARREN
GOSPEL ANNOUNCER OF THE YEAR
– RICK JOYNER, SHERIDAN GOSPEL NETWORK – ATLANTA, GA
– ANGELA MARTIN, WGRB – CHICAGO, IL
– MELANIE PRATT, WPZS – CHARLOTTE, NC
– REGINALD GAY, WPJM – ATLANTA, GA