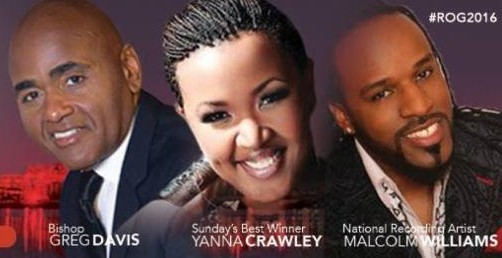 The National & Independent
Gospel
Music Association is gaining national exposure as they prepare to present one of the biggest and spectacular
Gospel
Awards presentations at this year's 8
th
Annual
Rhythm
Of
Gospel
Music Awards in Memphis Tennessee.
This grand stellar award weekend will take place
June 23
-26
th
2016. With over 12 hours of performances by some of the most talented
gospel
artists, mime & liturgical dancers, comedians, business executives and radio announcers from across the United States.
The
Rhythm
of
Gospel
Awards is an annual event filled with a variety of innovative and exciting showcases, competitions, exhibits and achievement galas, bringing in over 4,500 excited, tourists, church, social and civic groups, families and business professionals.
This televised award show is the 3rd largest
Gospel
Awards Show in the nation and is currently the Largest National Independent
Gospel
Award platform to cover the entire United States, Canada and various International regions worldwide. This event was designed to give
gospel
artist both a national platform, and a positive collaboration which supports all ethnicities in various genres of
gospel
music.
Explosive musical performances will be provided by: Angela "Missy" Billups, Annetta M. Williams, Anthony McBeth & United Praise Chorale, Bishop Charles Lyles & The New John Howard
Gospel
Caravan, Carolyn Moore, Corey Weaver, Countre Boi, Darren Deac, DaNell Daymon & Greater Works, Faithful Connection, Jarrell Hosley & Perpetual Prayze, Kendrick & ReNew'd, Marquis Dolford, Michelle-Brooks- Thompson, Minister R.L. Taylor & The Sons Of The Father, No Chains, Roosevelt Boles, ROXSY, Sharon Moore, Shawn J, Shirlandria Enoch, Sue Neil, Tonya Lewis Taylor, Walter Blocker & St. Thomas
Gospel
Choir, St. Luke
Gospel
Expression
& Billy Rivers & The Angelic Voices Of Faith
Special Presentation and Honoring tributes to: musical extraordinaire Minister Billy Rivers, & Stellar Award Winning, Radio Personality Ms. Tracy Bethea both of Memphis TN. Pastor Kenneth Chism, Bishop Charles Lyles, Pastor Aloysious Denard, Bishop Waverly Bumbrey, Pastor Dan Willis, Pastor Larry Davies, Pastor Glen Barnes, Bishop Kenneth Robinson, Apostle Willie Brooks III, Elder Desso Benjamin, Pastor Dr. Susan Jones, Pastor Dr. Geno Gibson & Bishop Donald D. Woody Sr.
We are proud to announce that this year's host will be: National Recording Artist Malcolm Williams, Bishop Greg Davis, and Sunday Best Winner Ms. Iyanna Crawley.