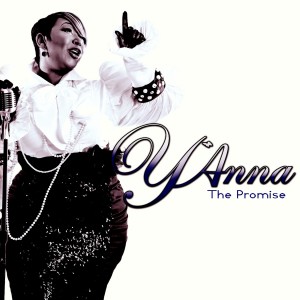 Imago Dei Music Group recording artist and BET's Sunday Best second season winner Y'Anna (EE-AH-NAH) Crawley has released her first solo CD project, The Promise.
Y'Anna says that winning Sunday Best and working on this CD project have been amazing blessings in her life.  Her experiences inspired her to choose The Promise as the title and theme of her new CD.  "With everything that I've gone through, all my ups and downs, with people talking about me and saying that I would never make it because I had two kids, I was resting on God's promise," she said.  "I'm hoping that people who listen to this CD will be uplifted and encouraged. I want them to realize that dreams do come true, so you should never give up on your dreams. When you get knocked down you get back up and just keep pressing through."
The title track and current single, "The Promise" reminds listeners that Jesus is the way and the promise, and that if you keep trusting in His Word and keep persevering you will attain your goals. This mid-tempo, contemporary gospel performance is a hit in the making.
"We are excited about the release of Y'Anna's debut CD," says Max Siegel, President and CEO of Imago Dei Music Group. "Y'Anna is the first artist we are releasing from the Sunday Best franchise. We look forward to creating her brand and further developing a platform that will sustain and establish longevity for her as one of gospel's contemporary leading ladies."
The Promise is produced by Busta and Shavoni (Kirk Franklin, Yolanda Adams), the production team of PAJAM-J. Moss, Paul Allen and Walter Kearney (Kelly Price, *NSYNC, Destiny's Child, Karen Clark Sheard) and Ryan Sims. Jim Wright (Jennifer Hudson, Mariah Carey, Sounds of Blackness, Ann Nesby) also contributed to the project, which was recorded at the Embassy Row Recording Studio in Los Angeles, CA.
The CD also includes her first single, Y'Anna's rendition of the Bill Wither's classic hit "Grandma's Hands," which she sang on Sunday Best. Her powerful performance of that song, about half way through the 10-week competition, stunned the judges-Bebe Winans, Tina and Erica Campbell of Mary Mary as well as show's host, Kirk Franklin.
The CD includes three songs that were written by Y'Anna and Busta, which come out of Y'Anna's personal experiences. The autobiographical "Stronger" tells her story of getting pregnant at 17, not marrying the baby's father as she had planned, and the hard times that followed. But the song and its message are upbeat-no matter what life's circumstances bring you, they will make you stronger if you keep your faith and never give up.  The jazzy "Looking Towards Heaven" is based on a song that she wrote after she had her second child and was feeling down about her life. "Every time I would get in a rut I would look up and say 'God, I'm looking to you to help me past this,'" she said. "And when I talked to God, I was looking towards heaven." Urban contemporary in style, "I Believe," describes her unswerving belief in God despite her circumstances or the influence of others.   This song is poised to become a crossover hit.
Through the CD, Y'Anna has a chance to showcase her many musical styles.  She channels Aretha Franklin in the down-home, foot-stomping rendition of "Still God." She offers a soulful take on Natalie Wilson's "Well Done." In "Right Time," and "Blessed" she gives soul-stirring performances that blends gospel and R&B. And she soothes the soul in the worshipful "Lord I Worship You," which she calls her love song to Jesus.
Y'Anna has a long musical lineage. She is the great-niece of acclaimed gospel singer Reverend Julius Cheeks, and the niece of gospel singer Genobia Jeter and R&B great Glenn Jones, who first had her in a recording studio at age 12. Since then, she has sung background vocals for a variety of artists, including pop, R&B and gospel stars such as Aretha Franklin, Natalie Cole, Anita Baker, Jennifer Lopez, Raheem DeVaughn, Angie Stone, Chrisette Michelle, Stephen Hurd, and Ledisi. She also traveled to Tanzania, in East Africa, on tour with platinum-recording artist Mya, and she sang lead vocals for Lissen, a local R&B and jazz band.
She wants to use her blessings to bless others through THE PROMISE Foundation. This initiative will seek to provide, health, wellness, fitness, self-esteem building, social services, as well as scholarships to young women between 18 and 35.  She also is planning a second initiative called Momma'sBoys, whichis intended to be an agent to encourage, teach, provide guidance and information and assist with connecting young boys with positive male role models and mentors in their communities.
In the meantime, Y'Anna is looking forward to spreading a message of faith and hope through her CD project, The Promise. "The message in all my songs is that no matter what, no matter how down you are, there is hope right now-you are still blessed," That message is also her personal testimony. "To go through the fire and, like the Scripture says, to come out pure as gold-that's how I feel, that I'm pure as gold, like the light is just shining and everybody can see."