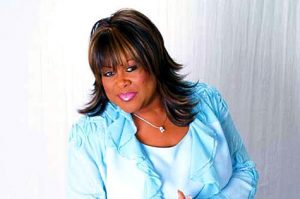 It's an exciting time at Tyscot! The label announced its' re-signing of music powerhouse, Ms. Shirley Murdock. Great things are in store for this continuing relationship as preparations are being made for Murdock's first live CD/DVD scheduled later this year.
Murdock first came to Tyscot after a chance meeting with Bryant Scott in 2006.  She eventually released the self-produced album, Soulfood which featured the fan favorite, woman's empowerment anthem, "I Love Me Better Than That".
Tyscot President, Bryant Scott has high expectations for Shirley Murdock's future and stated, "I am extremely delighted that we have partnered with Shirley Murdock for 3 more projects.  The Soulfood album was a successful venture with DeGroat & Murdock (Shirley's production company) which afforded us the opportunity to learn and grow together.  We look forward with high expectations to producing anointed Shirley Murdock albums and video programming with tremendous mass appeal."
Shirley Murdock is overjoyed about her future at Tyscot and is grateful for their continued support.
"I am very excited about re-signing with Tyscot," said Murdock, "Tyscot believes in the ministry that God does through me and it's always good to connect with people who believe in the vision and the dream."
Further details regarding the upcoming recording will be announced in the coming months. Please visit www.tyscot.com for updates and news.