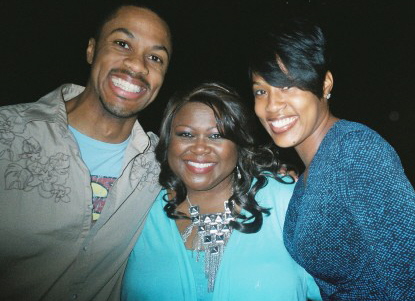 (Pictured from Left to Right: Larry Gates, Shirley Murdock and Summer Gates)
Since her first "Live" recording on April 28th, Shirley Murdock has made several appearances sharing her past, future and present endeavors with whomever she comes in contact with.  During these stops, she not only takes time out encourage others but Shirley also pays homage to those who have helped her along her journey through the music business.
On June 6th, Murdock participated in "The Music Lives On" the Musical & Charity Tribute to Music Legend Roger Troutman in Dayton, OH.  Roger Troutman was very instrumental in shaping and launching Shirley's early music career.  Her heart remains tender in relation to keeping the legacy of Roger Troutman alive in the city of Dayton, OH and throughout the nation.
There were many fans and supporters in attendance.  Spotted in the crowd, was on-air announcer Jim Johnson from WDAO-1210AM radio and Troutman's family and friends, including his children.
During the Musical tribute, Murdock sang "Upward Way" one of the new songs from her upcoming project "The Journey".  Fans can look forward to hearing this tune featuring R&B sensation Regina Belle on the new CD & DVD. The entire crowd instantly caught on to the groove, message and hook of the song. By the end of the song, they were singing along with her.
Shirley shared more about her new project "The Journey" throughout the night and also spoke on how Roger Troutman was one of the driving forces behind her career along with her faith in God.  Murdock closed her set with the inspiring song "Stand" by Donnie McClurkin, encouraging the crowd to trust God no matter how hard the journey gets.
The entire night was filled with music, love & encouragement. One more stop on Shirley Murdock's journey with God leading the way.
Her new project, The Journey, will be released on Tyscot Music & Entertainment on October 18, 2011.  This will be Murdock's second CD and first DVD with the label.  For More Info on Shirley Murdock please visit: www.tyscot.com