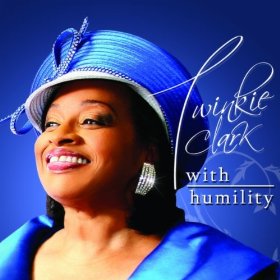 Detroit, MI — Twinkie Clark is the proclaimed queen of the B3 Hammond and is one quarter of gospel music's best loved and longest serving acts. Her recording career has spanned over 4 decades with multiple Grammy and Stellar Awards, a writer's catalogue of over 150 songs, gold records, recognition as one of NPR Music's 50 greatest voices of all time and induction into the International Gospel Music Hall of Fame along with her sisters The Clark Sisters and her mother the late Dr. Mattie Moss-Clark.
Twinkie Clark is set to release her long awaited new solo project With Humility on April 5, on Larry Clark Gospel Records and distributed by Central South Distribution.
With Humility cannot be classified as just another gospel CD. This historical collection includes never before heard audio footage of her mother the late Dr. Mattie Moss-Clark on the classic "A Tribute". "The significance of this song brings me back to the anointing and the gift that she (her mother) had and shared with countless people across the world," Twinkie reflects. The CD also includes a tribute from Twinkie to her father – "For You I Am Praying" and cherished photos released to the public for the first time.
Twinkie faithfully delivers on this CD as only she can deliver with gospel favorites "Precious Lord" and the high-spirited churchy "God's Got A Blessing". Twinkie doesn't disappoint her B3 fans by including a touch of organ with "Shout: A Touch of B-3".
With Humility was produced by Twinkie's nephew and rising talent Larry Clark. "Working with my nephew Larry as the producer brought the feeling of closeness with family," Twinkie expresses.
"This project actually started out as me producing a couple of instrumentals for my aunt Twinkie to use as accompaniment for concerts on the road," explains Larry Clark. "Eleven tracks later we had a full project that we titled With Humility because that is the posture that we've taken in offering it to God's people."
Twinkie's video and radio single "Awesome God" is a beautiful worship anthem arranged by and featuring Larry Clark. "Being able to shoot my first music video was incredible for two reasons," Twinkie shares. "The video has such a strong message of redemption and I've been accustomed to doing only live videos."
With Humility is the perfect representation of her entire music career demonstrating her versatility and the wide scope of sub-genres she influences and utilizes in her art form. Gospel music supporters and a new generation of fans will embrace this collectors CD from a gifted musician, anointed vocalist and a true worshipper, the one and only…Twinkie Clark!
www.larryclarkgospel.com/twinkie
www.facebook.com/twinkieclarkgospel
With Humility Track List:
God's Got A Blessing
Awesome God featuring Larry Clark
The Anointing Breaks the Yoke
Precious Lord
Sing and Shout
Did Not Have To Do It featuring RIME
Shout (A Touch of B-3)
The Righteous featuring The Clark Brothers
For You I Am Praying Tribute to Elbert Clark
My Help Cometh
A Tribute featuring Mattie Moss-Clark
By: Benita Bellamy