The Allstate Gospel Superfest goes on tour in search for its Next Opening Act!
GSF TV Launches "BATTLE OF THE BANDS" for gospel groups and quartets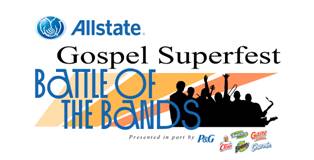 Northbrook, IL — The Allstate Gospel Superfest Opening Act Contest is back!  The show's producers will visit four US cities this June for its second annual Opening Act Contest… However this time, the contest has been expanded to include gospel groups and quartets!  The tour, entitled The Allstate Gospel Superfest Battle of the Bands is for groups will full band accompaniment and will kick off the tour in Cleveland, OH on Saturday, June 12, 2010 at the Civic Center 3130 Mayfield Road, Cleveland Heights, OH 44118.  Then travel to Jackson, MS on June 19, 2010 and then on to St. Louis, MO (6/26/10) and a final market to be announced.
"This could be your group's next big break.  The next Opening Act for the Gospel Superfest Just might be yours", states the show's executive producer and founder Bobby Cartwright, Jr.  "This is a grass roots movement to really see who's out there.  Hopefully we will discover some great new talent." Cartwright continues.
Along with a cash prize of $5,000.00 the grand prizewinner will get a chance to appear on international TV on one of America's biggest gospel music stages, The Allstate Gospel Superfest.  Registration begins April 15th and will close once all slots have been filled.  The show plans to have ten finalists in each market, auditioning a total of forty-aspiring gospel groups.  Complete contest rules and registration requirements will be posted on line, once registration begins April 15th.
For more info on The Allstate Gospel Superfest, please visit, www.gospelsuperfest.com or call 800-219-0337.  The Allstate Gospel Superfest Battle of the Bands, for gospel groups and quartets is sponsored in part by P&G brands, Bounty, Charmin, Gain, Mr. Clean and Swiffer.
About Gospel Superfest
The Allstate Gospel Superfest is one of the nation's largest TV recordings in the field of urban-targeted- inspirational music and entertainment.  Founded in 1998, the show has maintained a consistent presence in broadcast syndication for ten consecutive years since the year 2000.  Releasing five one-hour specials a year, The Allstate Gospel Superfest is carried by major TV network affiliated stations including ABC, CBS, NBC, FOX, CW, & MYTV.  In domestic syndication the series reached an unprecedented US TV household coverage of over 90% in the years 2004, 2005, 2006, 2007 and 2008. (Source Nielsen Media Research)  Gospel Superfest TV programming reaches millions of TV viewers annually via domestic syndication and cable.  The show is also carried on major Christian networks including The Trinity Broadcasting Network (the world's largest) and The Word Network which can be viewed on multiple cable carriers and Direct TV.
About the Allstate Corporation
The Allstate Corporation (NYSE: ALL) is the nation's largest publicly held personal lines insurer. Widely known through the "You're In Good Hands With Allstate®" slogan, Allstate is reinventing protection and retirement to help more than 17 million households insure what they have today and better prepare for tomorrow. Consumers access Allstate insurance products and services through Allstate agencies, independent agencies, and Allstate exclusive financial representatives in the U.S. and Canada, as well as via www.allstate.com and 1-800 Allstate®.
About Procter & Gamble [NYSE:PG]