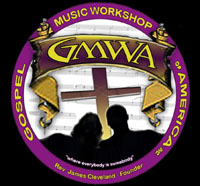 The who's who in Gospel Music will soon be heading south for the 41st Annual Session of the Gospel Music Workshop of America featuring the most touted professionals from the Gospel Announcers Guild and Nationwide media.
The workshops, musicals and events will be hosted at Marriott Waters Hotel and the Tampa Convention Center in Tampa, FL.  From top Gospel artists to heavy hitters in the Gospel music industry the Gospel Music Workshop of America (G.M.W.A) is the place to be from Sunday, August 14th to Thursday, August 18th.
If you haven't went before or haven't attended Gospel's most recognized conference in a while, here is my top 5 reasons to attend this year whether your a fan of Gospel music or a Gospel artist.
1. Powerful workshops and industry networking.
2. The musicals are incredible.  Packed with all your favorite Gospel artists.
3. The Second Annual Crystal Mic Media Awards.  One of Gospel's top award shows recognizing Christian media outlets.
4. Get your business, product, music, or brand out there to the faith-based community.
5. Media exposure
Plus I'll be there looking forward to meeting everyone!  Don't forget the official kick-off concert facilitated by the Florida Gospel Announcers Guild on Sunday, August 14th.  Click Here for more details on that.
Some of the Gospel artists, and media personalities coming to GMWA… Al "The Bishop" Hobbs, Bishop Sam Williams, Donna Creer, Sheilah Belle a.k.a The Belle, Kris Patrick, Edna Tatum, Minister Earl Bynum, Frank Walton, Don Jackson, James Bignon, Kirk Franklin, Norman Hutchins, Lowell Pye, Beverly Crawford, Jimmy Hicks, James Fortune & FIYA, JJ Hairston & YP, Jessica Reedy, Dorothy Norwood, Dana Mackey, The Miracle Sisters, Apostle J.L. Cash & Praise, Bishop Andre Woods, Kerry Douglas, Khalif Townes, The Rance Allen Group, Rev. John P. Kee, Rev. Marvin Sapp, Neily Dickerson, State Choir of Florida, Texas Mass Choir, Kenny Taylor, Western New York Chapter-Buffalo, NY Choir, Bishop "Mr. Clean" White, Dr. Peggy Britt, D.A. Johnson, Dr. Teresa Hairston, Pastor David Wright and the Rev. Timothy Wright Memorial Choir, Evg. Lemmie Battle, Brenda Jefferson, Colorado Springs Colorado Chapter GMWA Youth & Young Adults, Bro. Steve, Connecticut Chapter, Dr. Rodena Preston and the Los Angeles Chapter Mass Choir, Pastor Juandolyn Stokes, Willie Mae McIver, Dr. Steve Roberts and the James Cleveland Gospel Chorus, Pastor Henzy Green, Ed Stephens, Rev. Lawrence London, Elder Willie James Campbell, Cora Miles Jefferson, JoJo Pada, Nichole Heyward, Benita Bellamy and many many many more!
For more details, itinerary, and more.. Visit the GMWA website www.gmwanational.net

Check out the class schedule here!