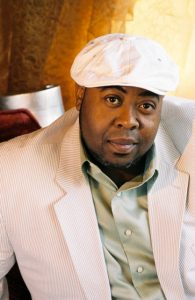 Recently, Shawn McLemore has become known for joining James Fortune & FIYA and Zacardi Cortez to sing the smash hit "I Believe" that spent 19 weeks at #1 on the Billboard Hot Gospel Songs chart this year. Over the years, he's done backing vocals for gospel heavyweights Donnie McClurkin and John P. Kee, produced R&B star Regina Belle and written songs for singing evangelists Kim Burrell and Dorinda Clark-Cole. In between gigs, he's also recorded a few solo albums. This is his time to take center stage. After a nearly fatal heart attack last year, McLemore is now back with a testimony of God's healing power on his fourth solo CD, "One Percent Miracle" (Blacksmoke Music Worldwide), that hits stores everywhere May 3, 2011.
In July 2010, McLemore was rushed to a Houston, Texas –area hospital. "I suffered a massive heart attack," he recalls. The doctors shocked his heart three times and had given up until one doctor suggested they give McLemore one more defibrillation. "The hospital was full of praying believers," he continues. "My wife pulled oil on her hands and believed God was going to bring me through." McLemore survived what doctors told his family was a 1% chance to recover and was back on the road performing and sharing his miracle convalescence within a matter of weeks.
The Los Angeles native grew up in the church and got his start in the music industry working with choirs or background singing ensembles that recorded with Mattie Moss Clark, Douglas Miller and John P. Kee. He went on to become a behind-the-scenes star known for his powerful vocal skills a background vocalist with a who's who in gospel music. The buzz about his work led to his debut solo CD "Wait On Him" that peaked at #33 on Billboard's Top Gospel Albums chart in 1997.
Kerry Douglas, named Billboard magazine's #1 indie gospel label owner in 2010, then discovered McLemore and took his career to new heights by pairing him with James Fortune & FIYA and Zacardi Cortez on the mega hit "I Believe" that spent 19 weeks at #1 on Billboard's Hot Gospel Songs chart earlier this year. McLemore says that his soulful new radio ballad, "Any Minute Now" is a continuation of "I Believe."  In the song he sings about bad medical reports and pink slips as examples of circumstances that God will miraculously show up and bring a solution to the problem.
"This album is special because I was able to even launch it," he says. "Even through all the situations that happened while I writing it. It all came together, and it's the right time to produce this album, especially because of where I am in life right now. When people listen to this album, I want them to take away that there's hope in God. There's so much going on right now with the recession, but any minute now God is going to do something. We all should live by faith." For more on McLemore and other Blacksmoke Music Worldwide artists, log online at www.MrKerryDouglas.com