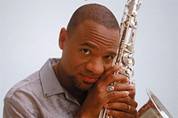 Los Angeles, CA — Eight-Time Grammy nominated saxophonist Kirk Whalum has already had a whirlwind year with the recent release of the long-awaited third installment in his popular genre-bridging gospel jazz series, The Gospel According To Jazz: Chapter III (GATJ3). GATJ3 debuted at #4 on the Billboard Jazz Album chart and #11 on the Billboard Gospel Chart.  After recently being named President & CEO of the Stax Museum of American Soul Music & Stax Music Academy, Whalum now caps off a stellar year with the release of Everything is Everything: The Music of Donny Hathaway on August 31st on Rendezvous Music, an imprint of Mack Avenue Records. To celebrate the release of his new CD, on Monday, August 2nd, Whalum is set to appear on The Tonight Show and will sit in with Rickey Minor and The Tonight Show Band. This is a reunion of sorts for Whalum and Minor who played together on the Whitney Houston 'The Bodyguard' World Tour.
Everything Is Everything consummates Whalum's chart-topping For You and The Babyface Songbook trilogy to complete a collection that brilliantly exhibits Kirk's singular interpretive skills. Donny Hathaway would have been 65 years old on October 1, 2010. Although the passing of this visionary and multi-talented artist left a significant void, his pervasive influence left an indelible mark on popular music. There could be no better standard bearer for Hathaway's work than tenor saxophonist Kirk Whalum, whose work has similarly crossed the boundaries between R&B, gospel and jazz with an emotional immediacy that is beyond compare.
Highlights on Whalum's Donny Hathaway tribute standards CD include "You Had To Know," featuring a heartfelt performance by Donny's daughter & neo-soul phenom Lalah Hathaway. Also, R&B crooner Musiq Soulchild gives a retro take on "We're Still Friends." This intricate and principled CD also features arrangements by Gil Goldstein and John Stoddart and collaborations from a virtual who's who of contemporary jazz masters such as Rick Braun, Jeff Golub and Christian McBride.  Helping to push the boundaries on this musical tribute celebration is pedal steel scorcher Robert Randolph. All of these dynamic artists come together with Whalum's passionate tenor to tell the musical story of one of the most important figures in popular music.
*Kirk Whalum is Currently Available for Interviews*