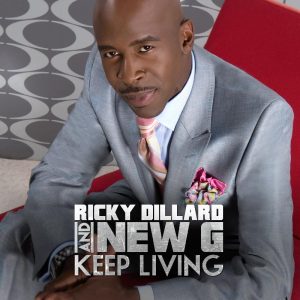 Truly one of Gospel's most influential artists, RICKY DILLARD, takes his signature choir music to new heights with the release of KEEP LIVING on Light Records.
Dillard's significance to choir music is unrivaled. Throughout his 20-year career, he has remained committed to advancing music exclusively for the choir.  Choirs are mainstays in our churches around the world and Dillard's music continues to provide them with relevant and contemporary music.
On the upcoming project entitled KEEP LIVING, Dillard takes his signature choir vocal arrangements and melodies to another level.  Producing songs that are mature, discriminating and wise, it is clear that he has grown in his approach to music.   Gems like "I Am Saved," "He Turned It," and "He Reigns," are definitive and timeless offerings.
The title track "Keep Living" a literal command that reminds us that we always have something to live for with God on board.  Industry fave, Chrystal Rucker simply soars on the lead vocals.  The lead single, "God Is Great," is an instantaneous classic. Lyrically, the simplicity of the drive, 'God is Great', to the intricate verses, the song immediately gets the listener going. Dillard himself is featured on the song giving it life while his long-time choir, New G's, dynamic vocals and modulation are executed flawlessly.   Quickly embraced by Gospel radio and connecting with audiences, "God Is Great," charted immediately and continues to rise.
While the moniker, 'choir master' is weighty, Dillard steps right into the role. "I feel the Lord shifting me into a father / mentor position," said Dillard. "Ministers of music and choir directors are looking to me for mentorship and counsel and people look at us to see what we [New G] are doing next."
KEEP LIVING was recorded live at Second Ebenezer Church in Detroit, MI and people can be a part of the awesome worship experience by purchasing the concert DVD along with the CD which will be available in-stores and on-line everywhere April 26th