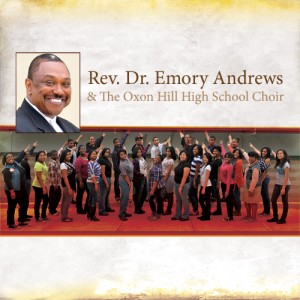 Gospel music is a genre adored by many.  Rev. Dr. Emory Andrews & The Oxon Hill High School Choir are preparing to celebrate the unique style of music with their self-titled CD release.  The 2010 Stellar Award winning choir will officially drop their new CD on Tuesday, October 11, 2011, at Oxon Hill Science and Technology High School located in Oxon Hill, MD, a suburb of Washington, D.C.  The event will take place in the auditorium of the school (6701 Leyte Drive, Oxon Hill, MD 20745 – 301.749.4300) at 6:30PM.  The concert is free and will showcase the choir singing songs from the new release, which will be available for purchase at the event.
The CD features the saxophone talents of GRAMMY Award Nominee Gerald Albright on the lead single, "The Storm Is Passing Over".  The world-renowned choir provides a tasteful remake of the Negro Spiritual, penned by Charles Tindley.  The choir brings the traditional song into the new millennium with an added contemporary flair.  The group's third project, the first on Stellar Award winner Phillip Carter's Sounds of Victory Ministries label, is a 14-track CD featuring other songs such as "The Solid Rock", "You Can't Make Me Doubt Him" and "America".
Rev. Dr. Emory Andrews & The Oxon Hill High School Choir are known worldwide for their superior musical talent.  In January 2010, the group walked away with the Stellar Award for Children's CD of the Year at the 25th Annual Stellar Awards. Having travelled the world, the group has been recognized as the top ranking choir in the country.  The choir is headed by Andrews, the Director of the Vocal Music Department and Choirs at Oxon Hill Science and Technology High School.  Educated at Florida A&M University (FAMU), Florida State University and National -Louis University, he's taught at FAMU, Bowie State University and University of the District of Columbia.  The choir of approximately130 voices has performed all over Prince George's County, Maryland, and the Washington, D.C. metropolitan area.  The popular group has also traveled the world including Central America, Italy and Nassau, Bahamas. For more information about the Oxon Hill High School Choir, log on to www.emoryandrews.com.