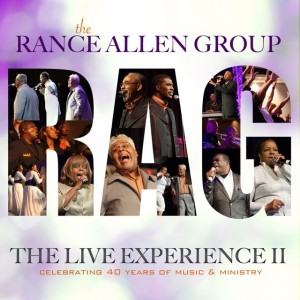 The legendary Rance Allen Group has been making electrifying gospel music for 40 years. Rance's stratospheric falsetto, his brothers Tom and Steve's warm harmonies, and progressive R&B flavored instrumentation have cut an incomparable sound that has influenced gospel megastars such as Kirk Franklin and Bebe & CeCe Winans to pop stars like Huey Lewis & The News. Their latest Top 10 CD and companion DVD, "The Live Experience II: Celebrating 40 Years of Music and Ministry" (Tyscot Records), celebrates their forty years of hits. It features two medleys of their past hits such as "Feel Like Going On," "We Care A Lot" and "Smile." It also features new songs such as the old school soul flavored "You That I Trust" and the worship ballad, "Holy One." Making cameo appearances on this musical merry-go-round are Gospel's First Lady, Shirley Caesar; veteran gospel star Vanessa Bell Armstrong; and The Christianaires' Paul Porter.
The critics have applauded the set. It made USA Today columnist Brian Mansfield's Top 10 playlist. Lee Hildebrand of Living blues magazine calls it "raw emotional intensity" while Jet magazine editor Clarence Waldron hails it as "soul-stirring." Now, the album that was recorded at Detroit's Greater Grace Church has earned four Stellar Awards (Gospel music's answer to the Grammy Awards) in the categories of Group Duo of the Year, Traditional Group/Duo of the Year, Traditional Male of the Year and Quartet of the Year. The 27th annual Stellar Awards will take place at Grand Ole Opry House in Nashville, TN on January 14, 2012. Visit www.thestelllarawards.com for more news.
The Rance Allen Group was born in their grandfather's Monroe, MI church in the 1960s. They began recording for Stax Records in 1971 where they made a string of gritty, R&B-flavored gospel and message songs for the Gospel Truth imprint. They toured with the big R&B artists of the day such as Isaac Hayes and Barry White, and literally took the gospel to the world. From there, the group recorded for a variety of labels and scored their first #1 gospel album in 1991 with the Phenomenon CD that featured the crossover R&B smash, "Miracle Worker." Allen closed out the 1990s performing in a variety of gospel-oriented touring play productions.
In 2002, the Rance Allen Group joined Tyscot Records where they have enjoyed a new string of hits such as "Do Your Will," "Closest Friend," "For Your Feet," and the Kirk Franklin duet, "Something About The Name Jesus." The music industry has now begun to honor the Rance Allen Group for its groundbreaking work in bridging R&B and gospel. They received a Legend Award during the 2009 Stellar Awards and were featured in a BMI Trailblazers of Gospel ceremony in 2008.  When asked how he would like to be remembered one day, Allen says, "I would love it if they said Rance loved God, he loved music, and he loved people."