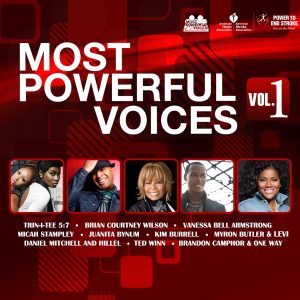 Music World Music/Music World Gospel releases the Most Powerful Voices Volume 1 compilation CD, in stores May 17, 2011.  The compilation features ten songs by Kim Burrell ("Happy"), Trin-i-tee 5:7 ("I'm Still Holdin' On"), Vanessa Bell Armstrong ("It's Over Now"), Brian Courtney Wilson ("All I Need"), Juanita Bynum ("Soul Cry, [Oh, Oh, Oh] – Recitation Version"), Micah Stampley ("Corinthian Song"), Myron Butler and Levi ("Set Me Free"), Ted Winn ("Reap") as well as the winners of the American Heart Association's Most Powerful Voices Gospel Music Competition—Brandon Camphor and One Way ("It's Possible [Gotta Have Faith]") of Upper Marlboro, Maryland (artist) and Daniel Mitchell and Hillel ("Great Things") of Gainesville, Florida (choir).
In 2010, the American Heart Association, Music World Gospel and GMC (Gospel Music Channel) partnered to educate people about stroke through an online gospel singing competition titled "The Most Powerful Voices Gospel Music Competition." The top 20 finalists were chosen by judges, including Mathew Knowles, founder, President and CEO of Music World Entertainment. The overall winners were chosen by the public on February 14, 2011, through online voting. The winners received a performance slot at the American Heart Association's Power Awards concert at the Apollo Theater; a professional vocal coaching session with Brian Courtney Wilson; one song recorded by Music World Gospel for the Most Powerful Voices compilation CD and a song featured at an online retailer; $5,000 worth of music equipment from Roland Corporation; $1,000 cash prize from Music World Gospel; recognition on GMC's national television network and more.
"I enjoyed participating in the selection process for the Most Powerful Voices Gospel Music Competition," said Mathew Knowles, American Heart Association spokesperson. "It is always a delightful experience to witness new and developing talent.  But more importantly, the mission and purpose of this competition is to raise awareness about the risk of stroke, particularly in the African American community.  And it's an issue that is personal to me, I suffer from high pressure and must take medication daily. Our partnership with the American Heart Association and the American Stroke Association is a collective cause that our Music World artists will be actively engaged in and we fully support this initiative during National Stroke Month and throughout the year."
The Gospel Competition winners—Brandon Camphor and One Way and Daniel Mitchell and Hillel—will have an opportunity to perform along with three award-winning recording artists: Chrisette Michele and Music World Gospel's Trin-i-tee 5:7 and Brian Courtney Wilson at the 5th Annual Power Awards' "You Are The Power" Concert at the Apollo Theater in Harlem, New York on Friday, May 6, at 8:00 p.m. EST. Mathew Knowles will be joining to present checks to the winners. For ticket information, please visit, www.ticketmaster.com. The 5th Annual Power Awards Weekend will also include the Power Networking event on Saturday, May 7 at the Intercontinental Hotel New York Times Square, with keynote speaker Mathew Knowles presenting on "Ten Traits for Success."
A portion of the proceeds from the CD will benefit the American Heart Association/American Stroke Association's (AHA/ASA) Power To End Stroke cause campaign. Power To End Stroke was created in 2006 by the AHA/ASA to help reach the ASA mission to reduce stroke and risk of stroke. The campaign raises critical awareness within the African American population. Heart disease and stroke are major health risks for all people, but the African American community is at particularly high risk. Blacks have almost twice the risk of first-ever strokes compared to whites. And blacks have higher death rates for stroke compared to whites. Stroke is a leading cause of death and a leading cause of long-term, severe disability for all Americans. African Americans are at increased risk for stroke compared to others due to increased rates of diabetes, high blood pressure and family history of heart disease or stroke. The prevalence of high blood pressure in African Americans in the United States is the highest in the world.
Power To End Stroke is nationally sponsored by the Bristol-Myers Squibb/Sanofi Pharmaceuticals Partnership.
www.musicworldgospel.com and www.musicworldent.com
ABOUT MUSIC WORLD GOSPEL
Music World Gospel (MWG) is a premiere faith-based record and management company under the umbrella of Music World Entertainment. MWG is dedicated to developing creative and innovative approaches to producing and promoting gospel, sacred, and inspirational music worldwide. Its mission is to reach, inspire and empower a diverse audience around the globe. MWG features a roster of award-winning recording artists, joint ventures and special projects including Trin-i-tee 5:7, Vanessa Bell Armstrong, Brian Courtney Wilson, Juanita Bynum, Micah Stampley, Pastor Rudy Rasmus, ESSENCE Gospel, the Most Powerful Voices and The Gospel Superfest brands. MWG's joint ventures and partnerships include Universal Music Christian Group, Fontana Distribution, Integrity Africa, ESSENCE Communications, Son Flower Records, Interface Entertainment and Dr. Bobby Cartwright, Jr. The company has achieved record breaking success on the sales and radio charts, with several artists' albums and singles debuting atop Billboard and Christian Music Trade Association (CMTA) charts and remaining  in the Top 5, 10 and 20 positions for as many as 100 weeks and counting.
ABOUT MUSIC WORLD ENTERTAINMENT
Music World Entertainment (MWE) was founded by Mathew Knowles, President and
C.E.O. Music World Entertainment is one of the world's leading entertainment and music conglomerates dedicated to producing and distributing quality entertainment. The MWE worldwide platforms include successful record label ventures, recording artist and producer management services, artist development services, a master catalog series, film ventures, television productions, licensed and merchandise products, sports endeavors, community philanthropic work and investment and property holdings. The Houston headquarters is home to House of Deréon Media Center, a performance and event facility hosting special events including charity galas, corporate parties and private functions. MWE has offices in Houston, New York, Los Angeles and London.
ABOUT THE AMERICAN STROKE ASSOCIATION
Created in 1997 as a division of the American Heart Association, the American Stroke Association works to improve stroke prevention, diagnosis and treatment to save lives from stroke — America's No. 3 killer and a leading cause of serious disability.  To do this, we fund scientific research, help people better understand and avoid stroke, encourage government support, guide healthcare professionals, and provide information to stroke survivors and their caregivers to enhance their quality of life.  To learn more, call 1-888-4STROKE or visit strokeassociation.org.
ABOUT GMC
GMC (www.watchGMCtv.com), the fastest-growing network in television and the number one digital network in perceived value (source: BETA Research), is America's favorite channel for uplifting music and family entertainment. Recently, The Parents Television Council™ awarded its Entertainment Seal of Approval™ to GMC for being "an authentic family-friendly cable network."  GMC is the only television network to receive the highly coveted honor in 2010. GMC can be seen in nearly 48 million homes on various cable systems around the country, on DIRECTV on channel 338 and on Verizon FiOS on channel 224.