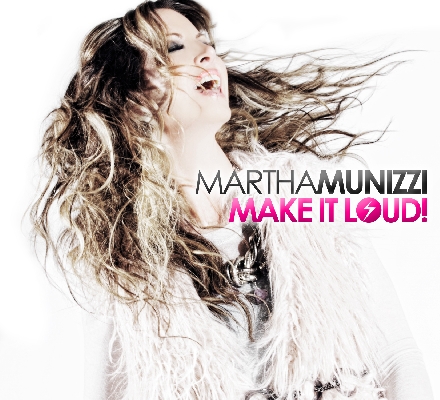 "Glorious," "Mighty God," and "Because Of Who You Are" are just a few of the songs that have made worship leader Martha Munizzi a household name in Gospel music.  The GRAMMY Nominee and Dove and Stellar Award Winner has literally broken down barriers in the genre.  With a slew of Billboard-charting releases under her belt, Munizzi is known for her spirited performances and powerful songs.  She is preparing to add a new release to her discography entitled "Make It Loud" releasing on Tuesday, April 26, 2011.
Recorded live in Orlando, Florida, "Make It Loud" is a culmination of EPIC Worship (Experience A Passionate Intimate Connection with God), a global movement of worship that Martha started in her hometown of Orlando.  As she began to pull together fellow worshipers for EPIC, Munizzi states, "God not only began to put us in the path of great singers, but people who are great worshipers.  All of them were leaders in their own respective churches, and already knew how to lead people into the throne room," shares Martha.  Bringing together gifted worship leaders and ministers of music, "Make It Loud" was a live recording of a phenomenal time of praise, and an experience that Martha believes will eclipse any other record she has done. Martha was also joined by special guest Praise & Worship Artists William McDowell, Michael Gungor, Jonathan Stockstill, Lori Morrison, Daniel Eric Groves, and features the debut of Martha's daughter Danielle Munizzi.
"Make It Loud" isn't just a record, but it's a declaration for Christians to stand up and be bold and vocal about their faith.  "I see many artists in mainstream music making very strong, declarative statements," says Martha.  "This generation is not just suggesting a viewpoint, but they are forcefully speaking their opinions as truth. We as Believers have The Truth, so it's imperative to declare the Truth that we know."
Fans of the singer not only will enjoy the title track, "Make It Loud", but also the project's first single, "Excellent", which is based on Psalm 8:1: "How excellent is Your name in all the earth."  The song is a reminder that in spite of what's going on in this world, it all belongs to God.  "No One Higher", another song on the CD which promises to be a future anthem for the church at large, contains lyrics speaking to the awesomeness of God and how everything pales to His greatness.  Through this new release, Martha continues to display her unique style of praise & worship, merging both Gospel and Contemporary Christian music for an amazing spiritual experience.
"Make It Loud" is Martha's first time sitting in the producer's chair, an opportunity that gave her more creative freedom than previous projects.  "I am so excited about this CD," shares Martha.  "I don't think I have been more in love with a project God has given me than I am with this one.  It has a special place in my heart, partly because my daughter is on it and partly because it features some awesome Worship Leaders from right here in Orlando."
Martha Munizzi burst on the gospel music scene in 2002 with the CD, Say The Name.  Since then, she's earned GRAMMY and Soul Train Award nominations and Dove and Stellar Award wins.  In 2004, she was named as one of the top five Gospel artists by Billboard Magazine.  She was also a part of the Sisters In The Spirit Tour in 2005 with Yolanda Adams, Kelly Price, Juanita Bynum, Rizen and Sheila E.  In 2006, Munizzi dropped No Limits Live which debuted at #1 on the Billboard Top Gospel Albums Chart and stayed there for 6 weeks.  She was featured on the big screen in the movie The Gospel and at BET's Celebration of Gospel.  In 2008, she released "Change The World", which debuted at #4 on the Billboard Top Christian Albums Chart, and earned her her first GMA Dove Award for "Contemporary Gospel Album Of The Year."  For more information on Martha Munizzi, log on to www.MarthaMunizzi.com.
Publicity:
Andrea R. Williams
Tehillah Enterprises, LLC
[email protected]
1.888.844.7701
Radio:
Daphanie Cassel
DW Promotions
[email protected]
832.387.4397