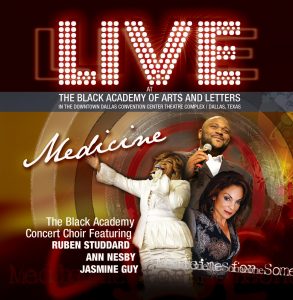 Multi-platinum gospel recording artist, Kirk Franklin, has endorsed the "Medicine: Live At The Black Academy of Arts & Letters" CD benefiting youth arts programs at the non-profit Black Academy of Arts & Letters, a national institution based in Franklin's native city of Dallas, Texas for the last 34 years. "I truly enjoyed this project," says Franklin. "This CD will be a blessing for anyone that is in need of `Medicine.' Please join me in supporting The Black Academy of Arts and Letters."
"In a bad economy the first thing that gets cut is arts funding," says Curtis King, founder of the 250,000 square foot complex adjacent to Dallas City Hall. "However, it's the plays, concerts, poetry readings and other inspiring programming we offer that helps people get through rough times like these. So, we're thrilled that these artists came together to make a CD that will raise money to help keep these programs going for our youth."
The stars King refers to include American Idol champ Ruben Studdard who sings the title song "Medicine (For Someone Else)" that is climbing up the gospel radio charts. The majority of the songs on the13-track, Medicine – Live At The Black Academy of Arts and Letters (MCG Records/ $13.99 SRLP), were written or co-written by Sam "Shake" Anderson – a bassist who has toured with the likes of Ray Charles, Curtis Mayfield and Bruce Hornsby. It was recorded live before an ecstatic, diverse and capacity-crowd at The Black Academy.  Backed by the 80-voice Black Academy Choir, the album is not a typical gospel set.
On it, the songs range from a brash critique of parasite preachers on "PTYHOMP (Please Take Your Hands Out My Pocket)" to the bloody waters of the Atlantic Slave Trade on Jasmine Guy's spoken word recitation of Curtis King's "My Language" poem.  Ann Nesby (former lead singer for The Sounds of Blackness) wraps her big voice around the poignant anthem, "What Would You Have Me Do?" Yarbrough & Peoples, best known for their 1981 #1 R&B smash "Don't Stop The Music," deliver the funk on the percolating street jam, "Jump Til' You Feel Something." Tommie Young West, who recorded classic R&B sides for Louisiana's Soul Power label in the early `70s, rocks the house on the pulsating "Won't Have To Worry" while Brenda Ellis' full alto pulverizes "Bask (In The Presence of the Lord)."
Although, The Black Academy has been a fixture on Dallas' local arts scene for over three decades, the organization also has a national standing. Its 1987 fundraising CD by Eartha Kitt entitled, My Way: Musical Tribute To Rev. Martin Luther King Jr. (Caravan of Dreams) sold over 250,000 copies. The Academy later funded national touring productions of "Black Music and the Civil Rights Movement," "Symphony with the Divas," and the musical, "Blues Bar." Visitwww.tbaal.org for more information.