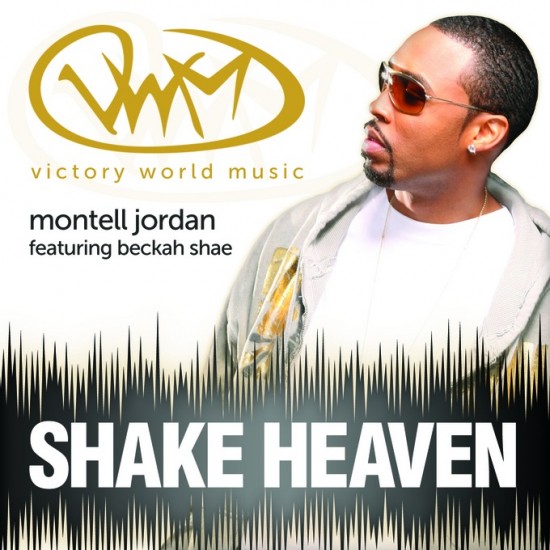 As Victory World Church introduces their powerful worship team to the world with the debut album Shake Heaven, Montell Jordan is at the forefront of the church's ministry efforts. The title track and new single, "Shake Heaven" is an ear-grabbing wall of sound punctuated by Jordan's soulful vocals that capture the latest chapter in his musical and spiritual evolution.
Most of the world knows Jordan as the smooth-voiced singer responsible for such mainstream R&B hits as, "This is How We Do It" and "Let's Ride," but to fellow believers at Victory World Church, Jordan is a Worship Pastor who uses music as a vehicle to transport people into the presence of God. Jordan, an award winning singer, songwriter and producer gave uGospel.com an exclusive interview to talk about his "new beginning".
uGospel.com: How are you Montell?
I'm fantastic and it's good to be with you today. Thank you for the listeners and everybody who's tuned in to what we're doing today.
uGospel.com: You're more than welcome. I saw the video for your single "Shake Heaven" off your new album of the same title. A lot of people weren't aware that you're doing Gospel music now. So tell us about that.
Well in January of 2011, I officially retired from R&B, world/secular music and went into full time ministry.  My job in ministry is Worship Pastor at Victory World Church in Norcross, Georgia. Victory has a new music division that God is birthing there called Victory World Music. The first single from Victory World Music is called "Shake Heaven"; it features Beckah Shae singing on the song. The song and album will be called Shake Heaven, which is due out on September 20, 2011.
Some people are looking at it as a Gospel song, while some people are looking at it as Contemporary Christian. It's kind of across the board, whatever people want to make of it. But really it's just good Kingdom music for our next generation of Christians upcoming. We just wanted to give them a new sound and that's what Shake Heaven is, it's basically just a new sound.
uGospel.com: This will be your 8th album, correct?
That is correct if we were talking about Montell Jordan solo albums, it would be considered number eight. But I don't even look at it as a Montell Jordan album, you know? Maybe the world kind of does, but to me it's Victory World Music.
uGospel.com: The reason why I asked is because 7 is the number of completion and 8 is the number of new beginnings. How do you feel about retiring from R&B on your 7th album and your 8th album being a new beginning in Gospel?
I feel like, you know, I know God places a lot of value into numbers.  I look back at those different albums and what those numbers probably represented. I know there were times when I was in flesh and there was the number for man for a certain album. Then I know the number of completion, and yet even at that time, I don't think it was a positive completion for me with album #7.
It was with a real bad record label situation. It really took advantage of what I tried to offer at that time. So, I think it was completion but not like good completion. It was like the ending of a bunch of madness to be able to get to the place now of this new beginning. So if 8 is new beginning, I'm glad to be there.
uGospel.com: Exactly, sometimes things need to be completed in order to really be catapulted into the next dimension and the next level. With this project, the single is really a hot single, it's an ear catching single that I know will not only catch the ears of young people, but also older people as well. So you do attend the Victory World Church now, correct?
It's called Victory World Church. There's a bunch of Victories in Atlanta, but there's only one Victory World Church. It's right off the Jimmy Carter exit in Norcross, Georgia and the pastors there are Pastor Dennis and Colleen Rouse. The church has been there for 22 years.
uGospel.com: Ok. I also understand that you are the Worship Pastor there?
That is correct. I am the Worship Pastor. I am a fully licensed minister with the license to marry, bury and dip. I'm fully walking in that calling. In an addition to ministry, I am the Worship Pastor.
uGospel.com: Other songs and singles on the album are incorporating some of the youth at your church. Tell us about that.
Yeah, I do believe the music we're creating right now is a new sound for the next generation of believers. We have a song, "Let's Go" that features my daughter, Sidney Jordan, who just turned 15. We have a song called "Breathe" by a 17 year old and a 16 year old, it's an amazing song. Just as I look through the people that we have slated for this project , you know, when you look at the 15, 16, 17 year olds that are writing songs for this album, they have a fresh take on Christ and what he is doing.
A lot of times as mature Christians we think about what Christ has done or what he's going to do for us. A lot of these kids in today's society are speaking from a stand point of what God is doing right now. So they bring a very fresh perspective on Christ and we've captured that on this album.
uGospel.com: What is the overall message that you want to convey to the Body of Christ with Shake Heaven?
Well, outside of it actually being scripture about God saying that he shook the Heavens once and once again. Upon us being obedient to his word, he would once again shake the Heavens and the Earth. I think the message that we're trying to get across is that we're taking back God's music. It belongs to him and he created it to be something more special. It's been kind of perverted and it's been misused, I've done it and I know that.
But, I've been forgiven for everything that I've done because Christ has given me that as a free gift. So now my objective is that what I gave the world, the passion I gave the world, the songs, the energy, the creativity that I gave to the world, now I want to give all that to Christ. So Shake Heaven is the same way that I made, you know, everybody put their hands up in the air, let's party, let's have a great time, let's do this, let's do that, I can't come into the body of Christ and not give God the same energy, honor, and enthusiasm that I gave to the world.
And so Shake Heaven is an anthem. It is a stadium driven anthem, hands in the air, party, but give God the glory type of song. That is the objective, that the same type of energy you would get at a stadium, at a game, or at a concert, you can give God that same glory in your church, home, or in your car.
uGospel.com: I can't wait for the album to come out; I believe you said it was on September 20, 2011?
That is correct; the album drops September 20, 2011. The album is absolutely nuts! The only reason I can say this is because of the quality and the time and effort that's been put into this. That was one of my things; I said if I ever ventured into doing Christian music or Gospel music, the quality that people put into the world's music, I want to make sure that God's Kingdom gets better.
You know, when you pop in this CD or cut on this album, you will definitely be pleased. And not be missing a beat or step you, will not miss world music by listening to the Shake Heaven album.
uGospel.com: How can your fans and supporters stay in contact with you?
The main website that we do have is the church website, www.victoryatl.com. The Victory World Music site, which is going to be amazing, is www.victoryworldmusic.com and then I can be reached on facebook at www.facebook.com/montelljordan,  www.facebook.com/montellmusic, or www.facebook.com/victoryworldmusic.  On twitter its www.twitter.com/montelljordan and www.twitter.com/shakeheaven. All of those places are where we can be reached with upcoming tour dates and all the information needed for you to be able to follow Montell and follow the movement that we're doing in taking back God's music, and living out worship as our lifestyle through our music.
uGospel.com:  It was great talking to you Montell, we're looking forward to the release of the project and I definitely believe that it will be a major blessing to the body of Christ.
Thank you so much, we believe the same thing. And thank you for sharing your listenership with us during this conversation. They will be able to know that we're doing something for the glory of god as well.
uGospel.com: Ok, thanks again Montell.
You got it sir.
Interview By Khalif Townes for uGospel.com