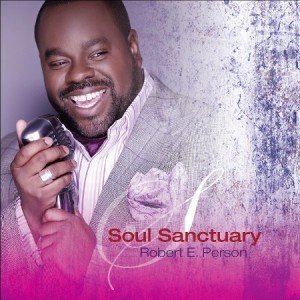 Robert E. Person has much to celebrate.  After the release of his latest CD, Soul Sanctuary, the singer has hardly been able to catch his breath.  The inspirational crooner, known for his song, "God Has A Plan" and the latest single from his new release, "Someday We'll All Be Free", is getting ready to make two major television appearances.  On Monday, October 3rd, Person will be performing on Rejoice In The Word on the WORD Network.  Singing live in the Detroit studios, he will have an opportunity to minister on the popular Christian network at 7PM EST.  Two days later, on October 5th, Person will be featured on The Babbie Mason Show.  Filming in Atlanta, the program, hosted by the popular Christian artist Babbie Mason, will showcase Person singing some of his most popular songs.  A future air date for the Babbie Mason Show will be announced.
Known as one of Gospel artist Earnest Pugh's favorite singers, Robert E. Person recently hosted his CD release event in the DC area to a packed house.  In addition to recent appearances at the Rev. Dr. Martin Luther King, Jr. Memorial Dedication and the Library of Congress, Robert will be holding a CD signing event at John 3:16 Bookstore (7953 Annapolis Rd, Lanham, MD  20706 – 301.459.5999) on Saturday, October 15th from 1:00PM – 4:00PM EST.  Fans of the artist will be able to pick up a personally-autographed copy of the CD and meet the singer in person.  Fans can also catch him on the Spirit of Washington Gospel Cruise as he performs on Saturday, November 5, 2011 from 11:30AM – 1:30PM.
Great reviews of Robert's new project, Soul Sanctuary, keep coming in.  Bianca Woodard of TekoaGospelNews.com says, "Robert Person has a classic voice. He is at his apex when his voice is paired with classic jazz tracks such as 'I Call On You' and a jazzy rendition of 'Great Is Thy Faithfulness'.  His rendition of Donny Hathaway's 'Someday We'll All Be Free' is an easy listening lover's dream".  Bob Marovich of TheBlackGospelBlog.com says, "Robert E. Person is from Washington, DC but his voice is as big as Texas.  His robust style – part gospel singer, part jazz balladeer – can be heard on his third CD, Soul Sanctuary, an indie project with major label personality."  Jessica Brooks of Breathecast.com says, "One listen to Person's rearrangement to the classic hymn 'Great Is Thy Faithfulness' will not only draw in lovers of gospel music but also those who enjoy the creative expression that jazz music harbors, which is displayed not only through Person's smooth vocal performance but also through the masterful piano solo and thumping acoustic bass, which are common to jazz music."  For more information on Robert E. Person, log on to www.RobertEPerson.com.