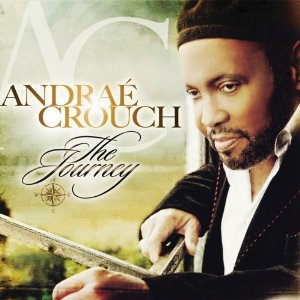 GRAMMY ® Award Winner and music legend Andraé Crouch releases today, his first CD in six years THE JOURNEY featuring 15 new songs, through Riverphlo Entertainment and distributed by Universal Music Christian Group.
Crouch, whose iconic status has been solidified since his debut in 1960, has 18 solo albums under his belt, feels a special connection with the music on THE JOURNEY.
An unwavering faith shines brightly throughout Pastor Crouch's new project. Pastor Crouch once again teams with Riverphlo president/CEO Luther "Mano" Hanes, a gifted producer who worked with Pastor Crouch on his last album; 2005's "Mighty Wind."
Whether in the pulpit or in a recording studio, Crouch's desire is always to impact people with the gospel, and he does so yet again on THE JOURNEY. The new CD showcases an artist at the peak of his creative form. There are several commanding performances including, longtime friend Tata Vega on "Somebody Told Me About Jesus" and "He Has a Plan for Me." While Chaka Khan and Sheila E. lend their distinctive gifts to the upbeat anthem "All Around the World."
The incomparable Kim Burrell along with Take 6 beautifully deliver the stirring ballad "Faith" while Daniel Johnson takes the spotlight on the warm, soulful "My Life." Pastor Marvin Winans, appears on the new single "Let The Church Say Amen." Supporters can download a FREE copy of the single by visiting Andrae's Facebook page:  www.facebook.com/andraecrouch.
Fans can also tune in to Bonnerfide Radio (www.getbonnerfide.com) for a special listening party on street date, Tuesday, September 27 at 8:00 p.m. EST at. Crouch will preview songs from THE JOURNEY and share stories about writing the songs. Crouch will also be featured on NPR's "Tell Me More" on Friday, September 30th and on TheGiro.com this week.
Crouch has several upcoming appearances including this Sunday, October 2 at the City of Refuge in Gardena, CA at the 11am service and an appearance at CBN's 700 Club, where he'll also participate in the Global Day of Worship hosted by Regent University on November 11th.
In conjunction with the CD release, churches across the country will host a screening of the exclusive short film, "The Journey," a documentary about Crouch's life and the making of his new CD. The short film includes interviews with Crouch, Marvin Winans, Donnie McClurkin, Rance Allen, Kim Burrell, Sheila E., Mark Kibble and Chaka Khan.
THE JOURNEY is available in stores and online today.