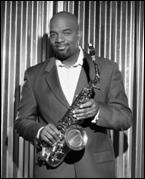 The world is getting ready to see a whole new side to Tyscot Records' gospel jazz artist, Harold Rayford.  With the release of his Brand New CD, I am the Instrument on August 3rd, longtime fans and even newcomers will not only notice a higher level of musicianship but they'll get to learn more about the man behind the music.
In his candid EPK video, which is available now on www.youtube.com, the gospel jazz veteran opens up about private moments including family, personal struggles and his flourishing music career.
To see Harold's candid moments plus never before seen footage: http://www.youtube.com/watch?v=NsqDV8dbyP4 – I Am The Instrument EPK
This video includes interviews and performances clips of songs from the upcoming album such as his stirring rendition of the popular Marvin Sapp tune "Never Would've Made It'.
I am the Instrument will be Rayford's fifth project on Tyscot Records.  The project, which will be available in stores and online August 3rd is already receiving attention outside of the gospel world.  Most recently, www.smoothjazz.com added his new song "Every Night My Father Prays" to its web play list.
Rayford plans to do more touring with this project and has been asked to be a part of a few upcoming tours.  He is currently finalizing plans for a Gospel Jazz tour that will make stops in several markets across the country.  If you want Harold Rayford to come to your city, please visit his website: www.haroldrayford.com
For More Information visit www.tyscot.com