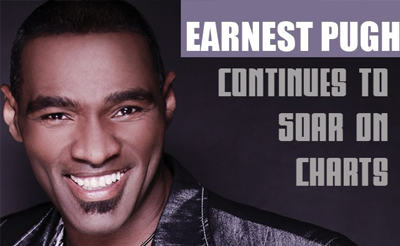 Washington, D.C.–Dynamic Gospel Singer Earnest Pugh is thrilled about this week's success on the gospel charts.  His breakout hit, "Rain On Us" continues its roll in the Top 10 on the BDS/Billboard chart.  Peaking at the #1 spot, the power ballad takes its seat this week at number 7.  As of July 28, 2010, the song will have celebrated its 52nd week on the chart.  Pugh's follow up to one of the year's most popular gospel songs is "The Great I Am".  An up-tempo cut, "The Great I Am" is currently at the #17 position, giving the artist two songs in the Top 20.
Both tracks are from the EPM/Black Smoke Music release Earnest Pugh Live: Rain On Us.  Co-produced by Michael Bereal and Earnest Pugh, the critically-acclaimed CD features the talents of gospel greats Vanessa Bell Armstrong and Richard Smallwood.
The CD is available in stores across the country where music is sold or online at iTunes and Amazon.com.
The powerhouse vocalist is prepping for the release of another single, "Perfect Peace", a stunning remake of the Keith Pringle classic.  The track is featured on the forthcoming project, Kerry Douglas Presents: Gospel Mix IV hitting stores September 2010.