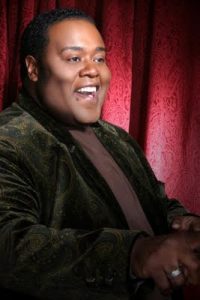 Atlanta, GA — Gospel recording artist Darwin Hobbs was hospitalized last week with multiple large blood clots in both lungs.  He is being treated at a hospital in Atlanta, Georgia, where he currently resides.  Hobbs recently had lap band surgery, which went extremely well. He has lost a considerable amount of weight, but is still working toward his goal. According to his wife, Traci Hobbs, doctors decided to keep Hobbs in the hospital because of the recent surgery, but his spirits are high and he hopes to be released soon.
The doctors have him on strict bed rest.  The Hobbs family is very grateful and thankful for all the prayers, love and support.  "Darwin is stable and they have started him on the blood thinners for the blood clots," said Traci Hobbs.  "Please continue to keep Darwin lifted up in prayer.  We're believing God that the blood thinners will work and dissolve the blood clots."
Hobbs has been busy promoting his new project, Champion, which was released in June. He was on his way to a radio event in Indianapolis when he was diverted to the hospital by his doctor because Hobbs was having trouble breathing.