Gospel Music Workshop of America Returns to Cincinnati
Annual Music Conference Taking Place July 25-July 30, 2010
Featuring Nightly Musicals, Daily Worship Services
And Great Gospel Music All Week-Long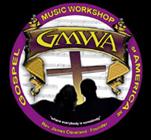 New York, NY — After an extremely successful convention last summer, the Gospel Music Workshop of America (GMWA) will return to Cincinnati this July.  The biggest Gospel music convention brings its week long celebration of Gospel with an all-new line up of amazing concerts, showcases and speakers.
With a membership of thousands that include radio announcers, churches, artists, choir directors, independent companies, singers, ministers of music, label executives and gospel fans, this week will incorporate academic classes, evangelism and outreach, nightly music services and showcases.
Verizon, long time supporter of faith-based initiatives and sponsor of How Sweet The Sound Choir Competition, will sponsor several events during GMWA week.   There will be a nightly Unsigned Artist Showcase where up-and-coming artists will have the opportunity to perform in front of a panel of executives and artists.  Most exciting on Tuesday, July 27, Verizon will host gospel's most popular choir directors, Hezekiah Walker and Ricky Dillard in an exclusive 'Brat Pack' Reunion concert.
Once again meeting in Cincinnati at the Duke Energy Center, the GMWA will bring world-renowned ministers, speakers and artists to the city.  During the morning "Daily Bread" ministry services guest speakers include Rev. Al Sharpton, Pastor Donnie McClurkin, Evangelist Dorinda Clark Cole and Bishop Hezekiah Walker.   Among the national recording artists expected to make performance and appearances are Mississippi Mass Choir, Jonathan Nelson, Myron Butler, Richard Smallwood and a host of others.  Concert schedules and talent line ups are subject to change, and up-to-date information can be found on the GMWA website www.gmwanational.net
To cap-off the week long convention and in association with the 2010 Macy's Music Festival GMWA will host a Gospel concert hosted by Byron Cage.   Tickets to this concert can be purchased at the GMWA Ticket Booth located at the Duke Energy Center. Events are accessible by purchasing a Day or Week Pass at the Exhibition Hall at the Duke Energy Center.
Also in conjunction with this year's convention, the Gospel Announcers Guild (GAG) celebrates their 40th Anniversary. On Tuesday, July 27 GAG will host the CRYSTAL MIC Media Awards honoring gospel music and ministry media in nine categories at the Hilton Netherlands' Hall of Mirrors.
GMWA SERVES, a community service day will also take place Saturday, July 24th, where more than 200 GMWA volunteers will visit 10 Cincinnati sites to perform community service including feeding the hungry, health care initiatives & assisting at youth oriented programs.
The GMWA Quartet Division will hold its Salute to Pioneers Banquet Wednesday July 28 at 11am at Hilton Netherlands Hall of Mirrors.  This year's theme "Together We Stand, Divided We Fall" will honor 8 mainstay quartets and highlight how their ministries have positively impacted the quartet genre.  Tickets are $20 and will available at the GMWA ticket office in Duke Energy Center and the GMWA Quartet Division office on the street level of the Hilton.