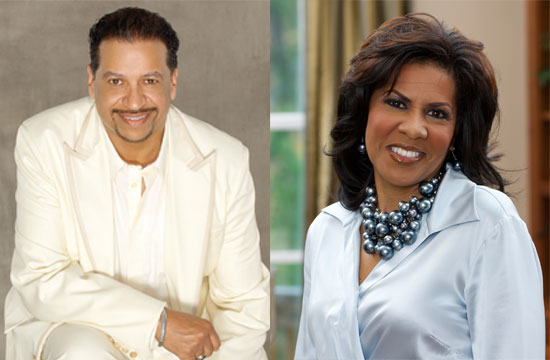 The Balm In Gilead, the pioneering organization in leading the faith community in the fight against HIV/AIDS, announced today that Dr.Teresa Hairston, the Gospel visionary behind Gospel Today Magazine and the Gospel Heritage Praise and Workshop Conference, will host The First AnnualGala Celebrating Greatness, Charisma and Leadership, an awards ceremony and concerthonoring women of faith who have been spiritual trailblazers.  The gala takes place Friday, March 25, 2011 at 7:00 pm at the Ritz Carlton at Tysons Corner in McLean, Virginia.
The featured musical guest will be the legendary Gospel icon Richard Smallwood.
Honorees for this year's inaugural celebration are: Dr. Elnora Hamb, International President, Women's Missionary Council of The CME Church; Dr. Barbara Shaw, President of the National Council of Negro Women succeeding the late Dr. Dorothy Height and International President of the Women's Home & Oversees Missionary Society of The AMEZ Church; and, Dr. Jamesina Evans, National President Emeritus, Women's Missionary Society of the AME Church.
"We are deeply honored to have both Dr. Teresa Hairston and Richard Smallwood to be part of this inaugural celebration," said Pernessa C. Seele, founder and CEO, The Balm In Gilead.  "This gala will be an evening of celebrating those women who have been more than just spiritual leaders, but those who have served people in an unselfish manner.  It will be a spirit-filled gala with uplifting performances taking you on an inspirational journey."
Richard Smallwood, who is celebrating more than 25 years in the industry, has an abundance of awards and citations including numerous Stellar and Dove Awards (Gospel music's highest honor), and a Grammy Award for his production on the Quincy Jones Gospel project, Handel's Soulful Messiah.  He has ministered to presidents and dignitaries all over the globe.  On November 14, 2006, he joined the ranks of a select few when he was inducted into the Gospel Music Hall of Fame by the prestigious Gospel Music Association (GMA), placing him in the company of some of the greatest artists ever to perform sacred music, among them Elvis Presley, Mahalia Jackson, Andraé Crouch, and Thomas A. Dorsey.
Dr. Hairston, too, has served the Gospel music industry for more than 25 years. She began as a songwriter/arranger working with artists such as Albertina Walker, Georgia Mass Choir, and, Bishop Jeff Banks/Revival Temple Choir.  She started a four-page newsletter called SCORE.  Today, it is known as Gospel Today Magazine – the #1 Christian Lifestyle Magazine in the world! Adding to that legacy, she founded the Gospel Heritage Foundation in 1996. Now, 15 years later, Heritage is blessing ministries, pastors and artist with its dynamic teaching, preaching, praise and worship offerings.
For more information and to purchase ticketstoThe First AnnualGala Celebrating Greatness, Charisma and Leadership, visitwww.gala2011.com. Or call 888-225-6243.