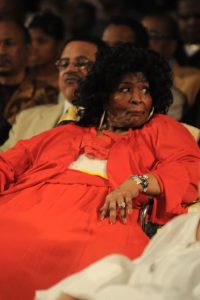 DeLois Barrett Campbell- one of three sisters who made up Chicago's legendary gospel trio the Barrett Sisters died Tuesday, August 2, 2011.
The Barrett Sisters grew up in poverty in Chicago, Illinois. They had seven siblings. Four of their siblings died from tuberculosis. They were raised by strict spiritual parents. They were not allowed to listen to blues music. In 1930s, the three sisters began singing gospel with their cousin, and their vocal coach was their aunt Mattie Dacus. Like many of their cohorts, they thought that the only hope for a music career; they would have to enter into the secular world. But The Barrett Sisters knew that would deeply hurt their parents, who believed that secular music had no place in the lives of the saved.
In the mid-1960s, the sisters regrouped to record their first album on the Savoy Records, "Jesus Loves Me," on which they recorded Sam Cooke's "Wonderful". They followed with "I'll Fly Away" and "Carry Me Back" where they were joined with Roberta Martin on "I Hear God". Ms. Martin sang lead on the title track. Since then, The Barrett Sisters have become one of the world famous female gospel groups. They have performed at countless churches and in many respected concert halls including the Lincoln Center in NYC, Constitution Hall in Washington, DC, Orchestra Hall in Chicago, and Theatre DeVille in Paris, France. The Barrett Sisters have toured internationally over thirty times. In the 70's they recorded two albums for Nashboro's subsidiary label Creed: "God So Loved The World" and "Coming Again So Soon". Ms. Campbell followed with a solo album also on Creed called "Through It All".
The Barrett Sisters represented the United States in Africa, as Goodwill Ambassadors of 1983, and in the South Pacific for six week in 1987. They have also performed for several notable leaders including the King of Sweden and the President of Zaire, Africa. The Barrett Sisters are associated with numerous celebrities and big names in entertainment including Thomas A. Dorsey (National Singers Convention), Rev. James Cleveland, Andre Crouch, The Mighty Clouds of Joy, Shirley Caesar, The Winans, Willie Mae Ford Smith and Patti LaBelle.
Funeral Arrangements To Be Announced