Gospel Announcers Guild – Gospel Music Workshop of America
Keeps the Love in "The Room"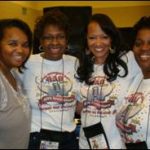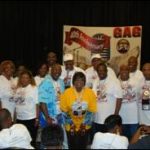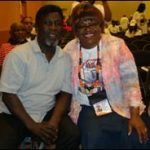 From left to right: The Belle and her girls from all week, Peggy Tatum, Liz Black and Ms. Gee (Mrs. Doctor Dee),
Gospel Announcer Guild Affiliate Leaders after receiving their 40th year medallions from the GAG-GMWA; Terri Gold, Arvetra Jones,
Lydia Goodin, Catherine Dorsey, Angier Johnson, Bishop Sam Williams, Bro. Steve, Fran Kelley, Al "The Bishop" Hobbs, Ed Stephens,
Rodney Evans, Chuck Spearman, Dennis Coles, Bill "The Mailman" Martin, and Frank Walton and
Finally catching up were Doc McKenzie and Lemmie Battle
By Sheilah Belle
Cincinnati, OH – With only one more day to go, before the Gospel Announcers Guild –Gospel Music Workshop of America wraps up its Annual 40th Convention, special tributes, presentation, special guests and impromptu moments continued to increase throughout the week.
Pastor Donnie McClurkin made a special stop to visit with the Gospel Announcers Guild, as well as Doc McKenzie, Lemmie Battle, James Hall, Earnest Pugh and Vickie Mack Lataillade.
Also throughout the week, classes and panels were held to discuss hot topics including "Radio 2010 & Beyond", "How to Own Your Own Radio Station", "Radio and other media promotions in a depressed economy", "How to Turn radio Charting Success in to sales", moderated by Lisa Collins, "Digital Promotion in a viral world & Expanding My Print Impact", moderated by The Belle, and "Production Techniques Today and Tomorrow", moderated by Bishop Sam Williams.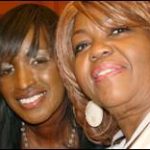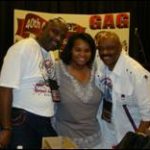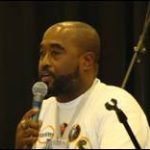 From left to right: Lucinda Moore, Lydia Goodin, Bishop Sam, The Belle and Al Hobbs and Arvetra Jones