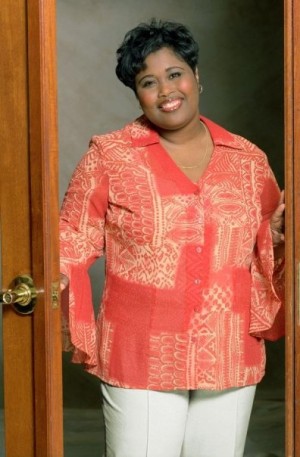 Freda Battle and her choral aggregation the Temple Worshippers, prepare to record their 5th live project entitled, HOW GLORIOUS AND EXCELLENT IS OUR GOD (Peace-O-Mind Music/The J. Hardy Agency), tonight in Boston at Morning Star Baptist Church. Battle and her group The Temple Worshippers will make history as the first female gospel recording artist and choral group to have a live recording session streamed live for the purpose of physical and digital commercial distribution.
The live recording will be streamed live via Battle's home church Morning Star Baptist Church tonight beginning at 7pm EST/4pm PST. Log onto www.msbc-bos.org to watch. Special guests include Stellar Award winning recording artist Stephen Hurd, Bobby Perry (of Bobby Perry & RAIN), Rodney Posey, Michael White of Washington, DC, and more.
Battle transitioned from a regional artist to a national artist with her national debut release Serious Praise in 2002 on Axiom Records, which was nominated for a 2003 GMWA Excellence Award for Contemporary Group of the Year. Her latest effort, the 2006 critically acclaimed Here Is Our Praise project on Axiom Records garnered Battle an even larger audience with stellar production by Grammy® Award winning producer-artist Israel Houghton. "Here Is Our Praise" according to Gospelflava.com, was "One of the Strongest Albums of the Year".
One look at Battle's resume will tell you that she's no stranger to the gospel music industry. Over the past 30+ years in gospel music and ministry, Battle has recorded, produced, written, and/or executive produced on over twenty (20) projects, some of which includes, the National Convention of Gospel Choirs and Choruses, Gospel Music Workshop of America: Live In Milwaukee project, legendary female group Witness Speak To The Generations project on Axiom Records, Darryl Coley's Here II Praise project on Verity Records, Clarence Powell's debut project Made it After All on Axiom Records, Leonard Burks and the Voices of Praise, AS ONE, Heaven Sent, King James Version, her group The Temple Worshippers, most recently Rodney Posey's My Praise Is Waiting For You project and Patrick Lundy & The Ministers of Music Determined project, amongst others in addition to serving a 2 year stint as President of Gospel label Axiom Records and 8 years experience as a radio personality.
A native of Boston, Battle has spent most of her career actively involved with the National Convention of Gospel Choirs and Choruses alongside artists such as Pastor Hezekiah Walker and Donald Lawrence who refers to her as a "phenomenal songwriter [and] a blessing to the body of Christ!". The NCGCC, founded by "The Father of Gospel Music" himself, Thomas Dorsey, allowed growth and exposure for Battle through teaching workshops and composing songs for the convention's choirs.
Her work with the NCGCC and serving on the National Music Cabinet for ten years has opened doors for her to impart her wisdom and experience by teaching various music workshops nationally and internationally with subjects such as Ministry of Music, the History of Music Ministry, Choir Directing and Biblical Teachings of Praise and Worship. Battle's desire is to share her understanding on the importance of establishing a sincere atmosphere of worship.
Battle's vast experience and overall knowledge of the gospel music industry has given her the reputation of being a walking industry encyclopedia in the New England area. If someone in the Boston area needs information about the gospel music industry, people will more than likely refer them to Freda. "In my city, I'm known as an authority for gospel music. I consider it an honor to have that type of referral."