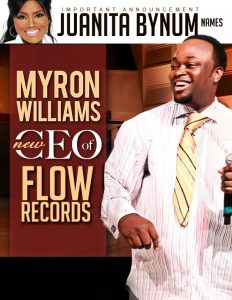 DALLAS, TX — Flow Records is proud to announce Myron Williams new appointment to President and CEO of the successful independent gospel label.  His first line of business was the May 4, release of More Passion, by founder and Flow Records artist Juanita Bynum which debuted at #3 on the Billboard Charts.
Williams, who has produced more than 7 projects for Juanita Bynum during the labels 4 year history, is a renowned producer and recording artist – having worked with some of the industry's top gospel artists including T.D. Jakes, Kim Burrell, Marvin Sapp, DFW Mass Choir, and Karen Clark-Sheard.  The long time Music Director for Juanita Bynum Ministries is credited with the music and sound fans of Flow Records have grown to love.  Known as one of the nation's top worship and praise leaders, Williams found a way to create the intensity and power of a praise service and usher it into the privacy of the listener's own sanctuary.
Flow Records first release on Bynum, A Piece of My Passion went gold in just 59 days, making the independent gospel label one of the fastest growing and highest grossing labels in history.  The label will sustain ownership of Bynum's catalogue, with future releases forthcoming.  Other very successful productions include Gospel Goes Classical, the joint project of Juanita Bynum and Jonathan Butler, and Myron Williams Made to Worship.
A number of unreleased songs remain in the vault of Flow Records, 11 of the unreleased songs are contained in the new release, More Passion, which topped the Billboard Charts in its first week, with the lead single, You'll Never Thirst.  Additional Flow Records projects include a summer release of Myron Williams new CD, the launch of its entertainment and production division which will produce and market gospel stage plays and expanding the artist's roster.
"I am excited about this new chapter in my life.  I believe true praise and worship cannot be contained when it is meant to bless the masses, and the music we have created here at Flow Records, has been a blessing in the past and will continue to touch the hearts and souls of listeners around the world," said Williams.  The Flow Records family sincerely wishes much success to Juanita Bynum and her new ventures.
For more information on Flow Records or Myron Williams, please visit www.flowrecordsmusic.com or email [email protected]