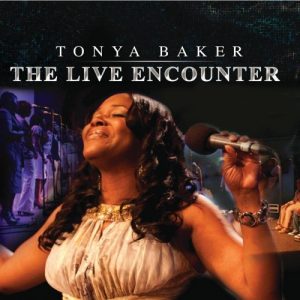 The gifted chanteuse and composer, Tonya Baker, first made her mark on the gospel music scene as a composer of modern day classics by gospel stars Helen Baylor and Tonex. However, Baker has now come into her own as an artist. As a result, she's gained not only a respectable American following but also an equally impressive European audience. On her May 3rd CD release, "The Live Encounter" (Kingdom Records/ List Price: $13.98), the dynamically soul-stirring vocalist showcases the talents that have won her global acclaim. A music video for her Billboard Top 20 smash "Miracles" will debut on BET's Centric channel this Sunday, May 1st at 7 a.m. EST.
On the sixteen-track set staged at The Ginghamsburg Church in Baker's native Dayton, OH, she shows off every emotional aspect of praise and worship music. She opens with the welcoming up-tempo `80s vibe of "I Came To Praise" and closes with the militaristic rock-infused African tribal groove of "The Kingdom Advancement."  In between, there are sing-a-long tunes such as "Sing Forever"; the acoustic anthem, "This Is How We Love"; the earthy funk of "I Won't Forget"; the Bossa Nova bump of "My Lips Will Praise You"; and the riveting ballad, "You're Everything."  The collection's initial radio single is the soothing declaration of praise, "Miracles," that has already delivered Baker with her first Billboard Hot Gospel Songs chart hit.
Grammy winner Myron Butler, who's collaborated with gospel stars such as Smokie Norful and Kirk Franklin, produced the album. "There's nothing like the live experience," Baker adds. "You feel the energy from the people and the presence of God in the place.  I believe He spoke to the people through the music.  Most importantly, I didn't want the people to just come looking for a great show – but an encounter with God." Visit www.kingdomrecordsinc.com or www.tonyabaker.com for more information.