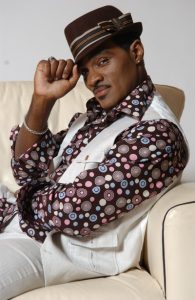 Blacksmoke Music Worldwide & EPM Music Group Congratulates Earnest Pugh on the success of his Chart Topping Single "Rain On Us."
After holding the #2 slot at radio for the last 6 weeks, Pugh emerges to the #1 spot this week according to Billboard/BDS Reports.
Earnest Pugh Live: "Rain On Us," featuring Vanessa Bell Armstrong and Richard Smallwood, debuted #2 on the Billboard Gospel Chart and has remained on the charts for over 32 weeks. Recorded live in Washington, DC, the CD was produced by Michael Bereal and co-produced by the artist himself.
"Blacksmoke Music is ecstatic about Earnest's progression to the top. He has been on the grind since day one and this comes to me as no surprise at all", says Kerry Douglas (CEO of Blacksmoke Music Worldwide).
According to Keith Williams, (SR VP of EPM Music Group), "Having our first #1 single is awesome and is a true testament that a small label with a big vision can do great things for the Kingdom. We are optimistic about our future in the industry and believe that our best days are ahead of us.  Again, congrats to Elder Pugh for the well deserved recognition."
Washington, DC based Gospel Recording Artist-Earnest Pugh was mesmerized by the news and says, "God is so awesome to me in this moment. It's one thing to follow your heart or obey instructions given by God, but it's another thing to walk in the reality of a manifested promise. This is so surreal to me as I reflect on a 7a.m. phone conversation with Kerry Douglas about 8 months ago. It was the week that he released "Rain On Us" to radio. His exact words were "Pugh we have a #1 hit on our hands." To be honest, I was half asleep and totally uninterested, however, I remember the sense of urgency in his voice and over time I saw the passion in the work of his hands which has brought me to this place and time. I could not ask for a better business partner and mentor than Kerry Douglas.
Elroy Smith (Operations Manager for Radio One in Philadelphia, PA) says, "It's a joy to see people like Earnest get such well deserved recognition."
Pugh would like to thank all of the Radio Program/Music Directors and all our Fans and Supporters across the globe, Kerry Douglas and the Douglas Boyz Radio Promotions Team, EPM Music Group (Keith, Zaunder and Troy), Family & Friends and especially my  covering, Rev. Drs. Grainger & Jo Ann Browning and Ebenezer AME Church in Fort Washington, MD.
Look out for the soon coming "Meet and Greet Tour" with Earnest Pugh and James Fortune in various cities. For more info, contact Kerry Douglas at 713.245.6204 or email [email protected]
For Radio Promotions contact:
Douglas Boyz Radio
Promotions @ 832.741.1168
To book Earnest Pugh, contact
EPM Music Group at 301.526.3003,
Email:[email protected] or visit  http://www.earnestpugh.com/ for tour dates, etc.
Order your copy today at: