EPM MUSIC RENEWS WITH BLACKSMOKE
"RAIN ON US" MAINTAINS BILLBOARD FOR 89 WEEKS
PUGH TAKES OVER DC AIRWAVES…BEHIND THE MIC!
www.earnestpugh.com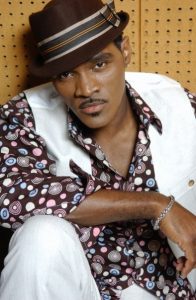 Earnest Pugh continues to build momentum in preparation of his upcoming CD release, titled Earnestly Yours, due in stores June 28, 2011!
Recently, he renewed with Kerry Douglas and Blacksmoke Music Worldwide. Pugh's decision came on the cusp of several powerful performances and television appearances, such as the 2011 BET Celebration of Gospel, hosted by Steve Harvey (Los Angeles, C.A.); the 2011 Stellar Awards Week (Nashville, T.N.); and The 2011 Allstate Gospel Superfest (Baltimore, M.D.). His business relationship with Blacksmoke began about three years ago when he approached Douglas and pitched the idea of a joint venture with Pugh's label, EPM Music Group.
"I had already recorded, mixed and mastered the CD," he stated, "…but was sort of in between deals. I truly believed signing with Kerry was the move to make in light of all the success he has had with his artists James Fortune & FIYA, Keith "Wonderboy" Johnson, and The Brown Boyz."
Douglas and Pugh signed their agreement within that week and, almost immediately, began an aggressive promo tour. The CD, Earnest Pugh Live: Rain On Us, was a musical success! It debuted at #2 on Billboard Gospel Charts where it has remained for over 89 weeks. The lead single, "Rain On Us," peaked a #1 and is still in rotation throughout the country – along with the 2nd Single, "The Great I Am," which peaked at #13 on the Gospel BDS Charts. Earnest was also ranked #6 on the year end Billboard Gospel Charts.
According to Kerry Douglas, "Pugh's grind is amazing and the impact of [his recent] appearances are sure to set the stage for his summer release…" The lead single for the project "Perfect Peace" is already in rotation at radio and featured on Pugh's website, www.earnestpugh.com.
Pugh's chart success has placed him in high demand on stage, screen, and on radio! On Saturday March 12th, he will fill in for Cheryl Jackson as guest DJ on WPRS Praise 104.1, in Washington, from 3-7pm. Listeners outside the D.C. area can listen online at www.praisedc.com. We can also catch him on March 9th at "March with Marcus D. Wiley & Friends," at the Fallbrook Church (Houston, TX); and on March 19th, at the Transformation Expo 2011, at the Richmond Convention Center (Richmond, VA).
Hard at work, Earnest is currently in the studio, with Producer Michael Bereal. "I am so elated and excited to team back up with my crew," Pugh stated. While Earnestly Yours is a studio recording, it will still contain all the elements of my live recording, such as heart piercing worship ballads laced with the prophetic utterance, upbeat praise songs, and a couple of 'churchy' numbers for the seasoned saints!"
For more info on Pugh's CD release and upcoming appearances, visit www.earnestpugh.com.
About Earnest Pugh
Gospel Music's "balladeer," Earnest Pugh lives the scripture at Psalm 13:6: I will sing the LORD's praise, for he has been good to me. Ranked #6 by Billboard's 2010 Year End Charts, Pugh is known for his riveting 5-Octave range and his unmatched ability in weaving his crystal clear vocals around gospel music's power ballads. His CD Earnest Pugh: LIVE Rain On Us won two En Sound Awards (2010) for "Song of the Year" and "Male Vocalist of the Year." His project also received a nomination from Gospel Music Channel (GMC) as "Best Praise & Worship Video of Year." The CD debuted at #2 on Billboard, in June 2009. He is a premiere vocalist on Kerry Douglas Presents Gospel Mix: Vol. 4. Pugh has been seen on BET's top rated shows Bobby Jones Gospel and featured on The Allstate Gospel Superfest. The EPM Music/Black Smoke Music Worldwide artist began his love story with music started in Memphis, Tennessee where he was discovered by the iconic and groundbreaking Gospel pioneer, O'Landa Draper.